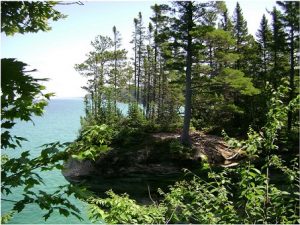 Enjoy Today!
---
11th Annual Barbara Kettle Gundlach Shelter Home 
Spring Music Celebration & Silent Auction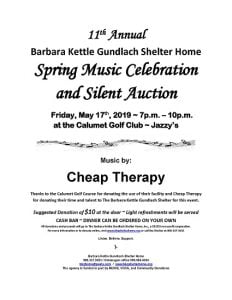 ---
First Annual Lean Conference at Tech
On May 20, Michigan Tech will host the First Annual Copper Country Lean Conference. During this one-day conference, experiences will be shared in large and small group sessions and in a poster showcase. Many different industries will be represented. This conference provides us with an exciting opportunity to connect with each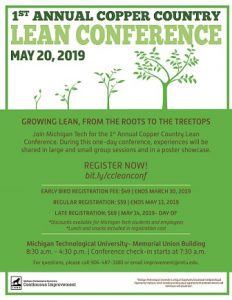 other, learn from others' experience, and share our successes. Register now! The Lean Conference
Registration Fee
Lunch and refreshments are included in your registration.
– Now – May 13: General $59  Michigan Tech Employees $29; Michigan Tech Students $15
– May 14 – 20 (day of): $69; Michigan Tech Students $29
During the registration process, you'll be asked if you'd like to volunteer to assist with the conference. Volunteers will be asked to attend a brief organization meeting and assigned to tasks like conference set up, registration, control center staffing, session moderators, and clean up. Participating volunteers will have their registration fees refunded directly after the conference. Many volunteers are needed, so please consider this opportunity!
More information about the conference can be found here Copper Country Lean
What questions do you have? Email improvement@mtu.edu, or call 906-487-3123.
---
StudentWatch Course Material Survey
The Campus Store is once again participating in the nationwide survey regarding course materials, we would like to know your thoughts!
Your feedback will help the Campus Store strive to provide the broadest course material options and most cost-conscious pricing through strategic partnerships, transparency, and industry awareness.
Cash prizes are available, please check your email for the link to the survey!
Have a great semester and we hope to hear from you!
---
HuskyDeals Google Group!
The HuskyDeals Google Group is here to share information about our current promotions and services! We distribute relevant information using a very limited amount of communications through this group. You may join or leave at any time.
To join now, email "huskydeals-l+subscribe@mtu.edu" or search your Google groups for HuskyDeals and select the Join option. And if you're already a member, check your email for your birthday discount coupon! Thank you for your patronage!
---
The SDC Summer Building Schedule
The SDC summer building schedule is now available. Summer hours will begin Sunday, May 5 and run through Sunday, August 25, 2019.
NOTE: The schedule pdf now contains a second page highlighting all open rec times in the SDC including these areas/activities: Fitness Center, locker rooms, multipurpose courts, indoor track, racquetball courts, ice arena public skating, OAP high ropes course, adult lap swim (no dive boards), open swim (4 lap lanes available), family swim (no lap lanes) and family swim/log rolling (no lap lanes).
Dates to remember:
May 27 and July 4 – The SDC will be closed for the holidays.
May 5-10 – Annual steam shutdown (no hot water in the SDC, but we will remain open).
May 5 – August 4 – Lap pool ONLY will be open (dive tank will be closed). See schedule for specific swim options/times.
June 4
The Ice arena re-opens (this is approximate with install beginning May 28).
August 5 – September 2
Both pools will be CLOSED for mechanical repairs and general maintenance. They are scheduled to reopen Tuesday, September 3.
Dollar Days: May 13-18
Try out a HuskiesFit group fitness class for only $2. More information is available here.
The summer HuskiesFit Adult Week at a Glance schedule can be viewed here.
Find your fit for summer at the SDC with the best variety of group fitness classes around. Zumba, Strong by Zumba, Aqua Zumba and Zumba Toning… all at the SDC! Classes offered 6 days a week! Visit Dollar Days to see the schedule.