---
Come watch Huskies use the force to stay afloat! Races start at 4 PM at the Houghton Waterfront Park. There is a free shuttle from the MUB and the SDC to the waterfront and back starting at 3 PM. You may even see some special guests in a boat this year, so come on out and celebrate Homecoming!
Do It For Daniel Movie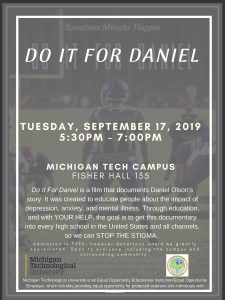 Tuesday September 27, 5:30PM in Fisher 135
Hosted by Student Health and Wellness, "Do It For Daniel" is a film that documents Daniel Olson's story. It was created to educate people about the impact of depression, anxiety and mental illness.
Through education, and with your help, the goal is to get this documentary into every high school in the United States and all channels, so we can stop the stigma.
Jeff Olson, Daniel's father, will be on Michigan Tech's campus speaking about and sharing this documentary. The event is scheduled for 5:30 p.m. Tuesday, (Sept.17) in Fisher 135.
---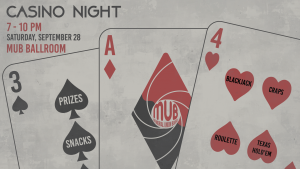 Event Name: Casino Night
Date: September 28
Time: 7-10 pm
Location: MUB Ballroom
Viva Las Vegas! Come over to the MUB Ballroom on September 28th from 7-10 pm to show us your skills in classic games such as blackjack, roulette, and many more! Throughout the night you will be playing to win tickets for a prize drawing at the end of the event! Snacks and refreshments will be available to help keep your winning streak rolling! **Must be present to win*
---
Everyone loves to see the Circus! See Cirque Mechanics in 42 FT. From the inventive Cirque Mechanics who brought us "Pedal Punk" in 2016, comes 42FT – A Menagerie of Mechanical Marvels!
At the center of every circus rests a 42ft ring full of thrills, laughs and excitement. 42FT – A Menagerie of Mechanical Marvels, is the latest invention from the creative minds of Cirque Mechanics. The company dares us to leap into the circus ring and experience the timelessness of this evolving art form. The show's unique mechanical interpretation of the traditional, and its story full of the lore of the historic one-ring circus, create a welcoming place, like a big top, where we can be amazed. The action in 42FT is full of theatricality and a modern sensibility, showcasing a galloping mechanical metal horse and a rotating tent frame for strongmen, acrobats and aerialists. Cirque Mechanics 42FT – A Menagerie of Mechanical Marvels comes to the Rozsa Center stage on Saturday, September 28, at 7:30 PM.
---
Audacious Autumn:
A Free Outdoor Concert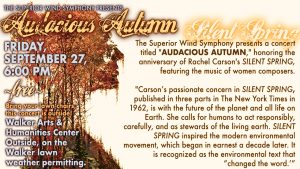 Event Name: Audacious Autumn
Date: Friday, September 27
Time: 6:00PM
Location: Walker Lawn
Bring your lawn chairs, bring your blankets: The Rozsa Center for the Performing Arts and Department of Visual and Performing Arts presents a concert by the Superior Wind Symphony (SWS), titled "Audacious Autumn," honoring the anniversary of Rachel Carson's Silent Spring, featuring the music of women composers. They will perform a free outdoor concert on the Walker lawn on Friday, September 27, at 6:00 PM. If it rains, the concert will be held inside the McArdle Theatre, 2nd floor Walker.  For more details, please see the attached press release.
---
HuskyLEAD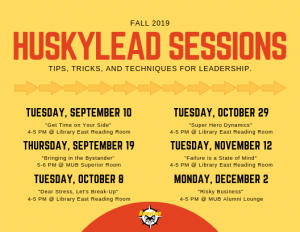 Want to find ways to develop your leaderships skills this semester? Come to the Fall 2019 HuskyLeads to gain some tips, tricks, and techniques for personal, organizational, and academic success. HuskyLeads are one hour long sessions for those who want to learn and elevate your leadership skills. Please see the image provided for more information on what workshop is provided and when.
Upcoming ones…

Tuesday, October 8 @ 4:00PM – 5:00PM
Where: Library East Reading Room
"Dear Stress, Let's Break-Up"
Tuesday, October 29 @ 4:00PM – 5:00PM
Where: Library East Reading Room
"Super Hero Dynamics" 
Tuesday, November 12 @ 4:00PM – 5:00PM
Where: Library East Reading Room
"Failure is a State of Mind" 
Monday, December 2 @ 4:00PM – 5:00PM
Where: MUB Alumni Lounge
"Risky Business"
---
The Tech Trails Need Your Help!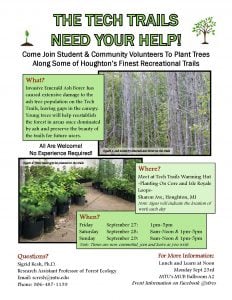 Invasive Emerald Ash Borer have caused extensive damage to the ash tree population on the Tech Trails, leaving behind dead trees which create a hole in the canopy allowing invasive shrub species to flourish and stunt native growth. Michigan Tech has received funding through the US-Forest Service/GLRI to plant native trees in areas along ski trails with the greatest loss of ash overstory. Young red maple, northern white cedar, white pine, red-osier dogwood, yellow birch, high bush cranberry, and pussy willow trees will help reestablish the tree cover in areas once dominated by ash and preserve the beauty of the trails for future users. Student and community volunteers will be planting the young trees on September 27, 28 & 29.
Michigan Tech invites you to help preserve the beauty of the Tech Trails and give back to your community. All are welcome to assist as they are able. Stop by the Tech Trails ready to plant! No experience required! Student coordinators will be present to organize volunteers. Work will involve digging, planting, weeding, and mulching. Please dress in long pants, close-toed shoes, and bring a shovel if you are able! Gloves, water, and snacks are recommended.
Where?
Tech Trails Warming Hut
–Core Loop and Isle Royale Loop–
Sharon Ave
Houghton, MI 49931
Note: Signs will indicate the location of work each day
When?
Friday September 27: 1pm-5pm
Saturday September 28: 8am-Noon & 1pm-5pm
Sunday September 29: 8am-Noon & 1pm-5pm
Note: shifts are non-committal, join and leave as you wish
Questions?
Sigrid Resh, Ph.D.
Research Assistant Professor of Forest Ecology
Email: scresh@mtu.edu
Phone: 906-487-1139
To Learn More:
Lunch and Learn at Noon
Monday Sept 23rd
MTU's MUB Ballroom A2
 
Find the Event on the MTU School of Forest Resources and Environmental Science Facebook Page @sfres
Project is funded with US-Forest Service and Great Lakes Restoration Initiative funding to Sigrid Resh (PI), and Jill Fisher, Rod Chimner, Chris Webster, Tara Bal, Jim Schmierer, and Andrew Storer (co-PIs)
---
Discussion: Mental Illness & Its Effects on Families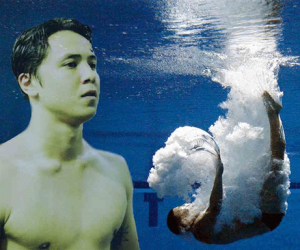 Mental Illness and its effects on families will be discussed on
Thursday, October 2, 2019 at 6:00 p.m.
at the J.R. Van Pelt and John and Ruanne Opie Library, East Reading Room on Michigan
Technological University campus.
The event will include showing scenes from Coming Up For Air, a family drama filmed in Michigan that premiered the end of September. The movie takes audiences on an all too common journey highlighting the importance of mental health care and the pressures that are put upon the student to succeed. The producer, Roger Rapport, will be available to answer questions about the making of the movie. A panel of local mental health professionals will talk about local services, treatment options and statistics, as well as answer audience questions. The goals of the event are to increase awareness, dialogue and connection, and decrease stigma.
No cost to attend.
Sponsored by Copper Country Mental Health and Michigan Technological University
---
Snapchat Takeover
University Marketing and Communications is looking for responsible and outgoing students, faculty or staff willing to run a 
Snapchat takeover
. The benefit to you? Raising awareness about Michigan Tech and about your program, organization, research or department.
University Snapchat Coordinator Ben Jaszczak works with campus groups to organize awareness-raising Snapchat takeovers targeted to current and future Huskies. With more than 2,000 followers, our Snapchat account is a great way to reach undergraduate and prospective students.
We've had students and research groups run takeovers in other countries through IPS, promote Enterprise competitions with the Concrete Canoe team, share their work with Summer Youth Programs, promote visiting speakers and much more.
To run a Snapchat takeover, all you need to do is identify who will run the takeover and choose a time slot of 1-3 days where they can highlight your program, research, project or event. With that information, contact us at 
video@mtu.edu
 to schedule your takeover.
---
Event Name: The Four Wheelers of Michigan Tech Fall Mud Bog
Date: Saturday, October 5
Time: 12:00PM
Location: Range Snowmobile Club
Saturday, October 5, registration starts at 9:00 am, MUD FLIES AT NOON. Held at the Range Snowmobile Club.
Spectator admission is $5 per person, vehicle registration is $15 per class. There are classes for stock vehicles, ATVs, SXSx, snowmobiles, heavily modified, and more! Anyone 16 years of age and over can enter for a chance to win prizes. Food and drinks will be sold at the event.
A portion of the proceeds will be donated to Little Brothers Friends of the Elderly Upper Michigan.
Check out the event on our Facebook page @MTU4x4
---
Be at the ROTC building at MTU at 10:00AM on Saturday, October 5th to start the run! Registration is $20, and the first 50 registrants will receive a free t-shirt. Registration can be done early through the link on our Facebook page (@mtuaas), or at the door on the 5th. There will be prizes and some speakers from the Hubbell VFW!
Please message our Facebook page if you have any questions.
The TSgt. Robert E. LaMotte Squadron is a squadron of Air Force ROTC's Arnold Air Society. Arnold Air Society is a professional, honorary, service organization dedicated to the promotion of air power and service within local communities.
---
Upcoming Intramurals!
Intramural Sports is also HIRING! Interested in becoming an intramural official? If interested please apply at this site: https://uww.joinhandshake.com/jobs/2781710
Upcoming Entry Deadlines
Homecoming Cornhole Tournament: Friday, September 27th @ Noon
–     Tournament will take place on Saturday prior to the Varsity Football Game.
Co-Rec Basketball: Wednesday, October 2nd @ 8:00 am
Flag Football Waitlist: Thursday, October 3rd @ 8:00 am
Disc Golf Doubles: Friday, October 4th @ Noon
Tournament will take place on Saturday, October 5th, starting around 10:00 am
Bocce Ball (re-scheduled): Friday, October 4th @ Noon
Tournament on Saturday, October 5th, starting around 1:00 pm
Co-Rec Water Polo: Thursday, October 10th @ 8:00 am
If you are interested in officiating, please email imsports@mtu.edu
Register your team at www.imleagues.com/MTU
Click here to view our Intramural Handbook
If you have any questions, please contact Craig Pellizzaro at 487-3040 or crpelliz@mtu.edu.
---
Michigan Tech Recreation Looking for Officials & Lifeguards

Sep 24, 2019
HOUGHTON, Mich. – Michigan Tech Recreation Services is hiring for the 2019-2020 calendar year. Current open positions include Lifeguard, Intramural Official, Climbing Wall Staff, Nordic Ski Wax Techs, and OAP event staff.
Recreational Services is looking to hire lifeguards for the Student Development Complex pool. General responsibilities include monitoring activities in and around the pool area, including practicing preventative lifeguarding by consistently enforcing rules and regulations. Potential applicants must be at least 15 years of age and have a current American Red Cross Lifeguard and CPR certification.
Michigan Tech is also looking for intramural officials. Sports officials are responsible for officiating intramural events for all levels of competition. Officials will be expected to achieve a level of competence in their scheduled sports. Further, they are to comply with all the policies and procedures of the Intramural-Recreational Sports Services office.
Finally, the Outdoor Adventure Program is looking for staff members for the upcoming academic year. Climbing Wall staff must be belay certified or have previous experience belaying at indoor climbing gyms or outdoors. Nordic Ski Wax Techs should have previous Nordic Ski experience, including waxing and sizing for users. General event staff will assist with a variety of OAP events including log rolling, rock climbing, youth events, and special events. Previous experience working in outdoor recreation is preferred, but not required. Specific skills may be required depending on the position, including the climbing wall and ski waxing.
All applicants must be able to work independently, manage risk, and enforce policies in a fair and consistent manner. Interested applicants to all positions may apply here.
---
This year's Muck Run is being organized by the Copper Country Track Club as a fundraiser.  The trail 5K will start at the Tech Trails main trailhead off of Sharon Ave on October 19th at 10:00am (arrive to register or check in by 9:30am).  Please see the attached registration form.  Email bekluske@mtu.edu with any questions.
---
Expanded Overnight Study Space in the Library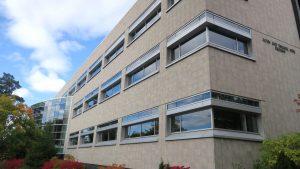 All of the library's second floor public space is now available for overnight study! Students have asked and we listened. The expansion of the library's 24-hour study space allows students overnight access to 7 group study rooms, 44 computers, two printers, and 4 additional restrooms. The entrances to the overnight space will remain the same, either through the Rekhi bridge entrance or the overnight west entrance of the library using a valid Husky ID card.