"A hero is an ordinary individual who finds the strength to persevere and endure in spite of overwhelming obstacles."
-Christopher Reeve
---
HuskyLEAD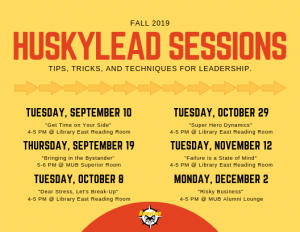 Want to find ways to develop your leaderships skills this semester? Come to the Fall 2019 HuskyLeads to gain some tips, tricks, and techniques for personal, organizational, and academic success. HuskyLeads are one hour long sessions for those who want to learn and elevate your leadership skills. Please see the image provided for more information on what workshop is provided and when.
Upcoming ones…

Tuesday, October 8 @ 4:00PM – 5:00PM
Where: Library East Reading Room
"Dear Stress, Let's Break-Up"
Tuesday, October 29 @ 4:00PM – 5:00PM
Where: Library East Reading Room
"Super Hero Dynamics" 
Tuesday, November 12 @ 4:00PM – 5:00PM
Where: Library East Reading Room
"Failure is a State of Mind" 
Monday, December 2 @ 4:00PM – 5:00PM
Where: MUB Alumni Lounge
"Risky Business"
---
RSO Re-Registration 2019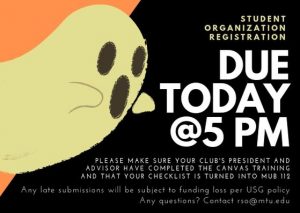 Re-Registration forms for all Registered Student Organizations are due at 5PM today (October 4th)! Please make sure your club's president and advisor have completed the Canvas Training and have turned in your re-registration form to the Student Leadership & Involvement office MUB 112. If you have questions or concerns please contact rso@mtu.edu.
Six Appeal – Vocal Band!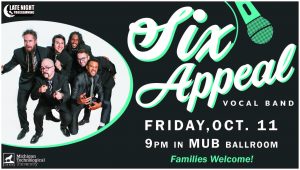 Friday, October 11 at 9 PM in the MUB Ballroom.  Free admission.  Families are welcome!
Six Appeal is a world-class vocal ensemble that combines musical prowess and sharp comedic timing with the energy and vitality of a rock band. The award-winning vocal band will take you on a journey that covers multiple decades and genres of music – performing classic oldies, current chart toppers, and catchy original tunes – completely a cappella.  Check them out at 
http://sixappealvocalband.com/
---
Plaidurday!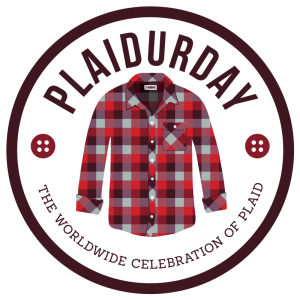 Fall is officially here and that means that it's time to celebrate Plaidurday! Friday, Oct. 4th the Campus Store and University Images will be celebrating Plaidurday 2019 by dressing for the occasion in our finest plaid attire.  
We want to see YOU in your most creative Plaidurday ensemble. Stop by the Campus Store or University Images dressed in plaid this Plaidurday and receive 25% off of your total purchase of Tech apparel.  
We will also be serving cider and donuts from 11am to 3pm, while supplies last. 
Let's make this Plaidurday the best one yet. Happy Plaiding!
Your Campus Store and University Images staff thank you for your patronage.  
---
Music-O-Rama!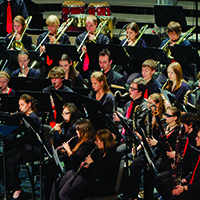 Please join us for Music-O-Rama, an annual musical variety concert, celebrating the diversity, history, and variety of music at Michigan Tech. Performers from many of the major Michigan Tech music ensembles: Jazz Lab Band, Superior Wind Symphony, conScience: Michigan Tech Chamber Singers, and Michigan Tech Concert Choir; will appear throughout the hall, playing music from around the globe. The Department of Visual and Performing Arts presents Music-O-Rama on Saturday, October 5, at 7:30 PM in the Rozsa Center.
For more information and purchasing tickets please click here.
---
Film Board Presents: Rocketman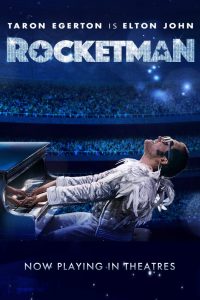 Friday,October 4th @ 5:30, 8:30, 11:30
Saturday, October 5th @ 2:30, 5:30, 8:30, 11:30
Sunday, October 6th @ 2:30, 5:30
Located on Michigan Tech's campus in Fisher 135. Tickets are $3 and concessions are $1 each. We hope to see you at the show this weekend and have a great day!
Rocketman is rated R for  language throughout, some drug use and sexual content.
Want to see what movies we're playing next? Check out our movies and showtimes at the Film Board website: filmboard.mtu.edu
---
Wednesday, October 9, 5-7 p.m.
Library 244
Do you have an innovative idea or an innovation that you want to protect and yet promote?  How do you know if someone hasn't already developed something similar? How can you protect your idea while promoting your innovation, completing customer discovery, and raising capital at the same time?  If you would like to learn more about intellectual property as a business tool, please join us for Protect Your Innovation, a Husky Innovate workshop.
We will discuss the fundamentals of intellectual property such as patents, trademarks, licensing, and trade secrets, including how to initiate a prior art discovery with resources available at the J. Robert Van Pelt and John Ruanne Opie Library. The workshop will start with an introduction into the practical considerations and trade-offs involved in protecting your idea and how intellectual property protections can be used as a tool to develop your innovation.
Michigan Technological University's own IP expert, Licensed Patent Agent and Associate Vice President for Research Administration Jim Baker, and local MTEC's SmartZone CEO Dan Jamison will guide the conversation with compelling scenarios and be available for questions throughout the event. Annelise Doll will provide an overview of US Patent and Trademark Office resources available at the local Patent and Trademark Resource Center.
---
Idea Pitch Competition
Tuesday, October 15, 7-9 p.m.
GLRC 202
You've kicked around that great idea of yours for a while and want to pitch it.  Now is your chance! The Idea Pitch Competition gives students a chance to take their ideas live and do just that. Students have two minutes to share their favorite innovation and/or disruptive idea in an interactive community setting. Present alone or with a team of up to two people. A judges panel comprised of community members will ask questions and provide feedback after your pitch. Top teams will be awarded cash prizes.
There will be a 6 p.m. pre-pitch meet-and-greet reception in the GLRC 201 lobby to precede the pitch competition, which will run from 7- 9 p.m..
---
Event Name: The Four Wheelers of Michigan Tech Fall Mud Bog
Date: Saturday, October 5
Time: 12:00PM
Location: Range Snowmobile Club
Saturday, October 5, registration starts at 9:00 am, MUD FLIES AT NOON. Held at the Range Snowmobile Club.
Spectator admission is $5 per person, vehicle registration is $15 per class. There are classes for stock vehicles, ATVs, SXSx, snowmobiles, heavily modified, and more! Anyone 16 years of age and over can enter for a chance to win prizes. Food and drinks will be sold at the event.
A portion of the proceeds will be donated to Little Brothers Friends of the Elderly Upper Michigan.
Check out the event on our Facebook page @MTU4x4
---
K-Day and Cardboard Boats Lost and Found!
Did you lose something while at K-Day or Cardboard boats?
We have a small collection of items that were left behind. Please stop by MUB 112 to claim your items. Any unclaimed items after Friday, October 11th will be donated to a local shelter.
---
D80 Conference Registration
You're invited to attend the annual 2019 D80 Conference will be held on Saturday, Oct. 12th, in the Memorial Union Ballroom. FREE LUNCH PROVIDED!! This year's D80 Conference theme is, The Intersection of Public Service and Community Engagement.  
Topics include :
The Father's Day Flood: Service, CommUNITY, and Preventative Measures
Food Insecurities, Food Sovereignty and Community Health
Project work conducted in places such as Panama, Ghana, Tanzania, Peru, Bahamas, and more
---
This year's Muck Run is being organized by the Copper Country Track Club as a fundraiser.  The trail 5K will start at the Tech Trails main trailhead off of Sharon Ave on October 19th at 10:00am (arrive to register or check in by 9:30am).  Please see the attached registration form.  Email bekluske@mtu.edu with any questions.
---
---
Upcoming Intramurals!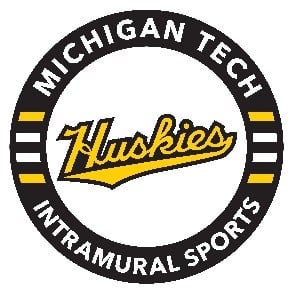 Please check out our Fall 2019 Activity Schedule for more details.
Intramural Sports is also HIRING! Interested in becoming an intramural official? If interested please apply at this site: https://uww.joinhandshake.com/jobs/2781710
Upcoming Entry Deadlines
Homecoming Cornhole Tournament: Friday, September 27th @ Noon
–     Tournament will take place on Saturday prior to the Varsity Football Game.
Co-Rec Basketball: Wednesday, October 2nd @ 8:00 am
Flag Football Waitlist: Thursday, October 3rd @ 8:00 am
Disc Golf Doubles: Friday, October 4th @ Noon
Tournament will take place on Saturday, October 5th, starting around 10:00 am
Bocce Ball (re-scheduled): Friday, October 4th @ Noon
Tournament on Saturday, October 5th, starting around 1:00 pm
Co-Rec Water Polo: Thursday, October 10th @ 8:00 am
If you are interested in officiating, please email imsports@mtu.edu
Register your team at www.imleagues.com/MTU
 
Click here to view our Intramural Handbook
If you have any questions, please contact Craig Pellizzaro at 487-3040 or crpelliz@mtu.edu.
---
Snapchat Takeover
University Marketing and Communications is looking for responsible and outgoing students, faculty or staff willing to run a 
Snapchat takeover
. The benefit to you? Raising awareness about Michigan Tech and about your program, organization, research or department.
University Snapchat Coordinator Ben Jaszczak works with campus groups to organize awareness-raising Snapchat takeovers targeted to current and future Huskies. With more than 2,000 followers, our Snapchat account is a great way to reach undergraduate and prospective students.
We've had students and research groups run takeovers in other countries through IPS, promote Enterprise competitions with the Concrete Canoe team, share their work with Summer Youth Programs, promote visiting speakers and much more.
To run a Snapchat takeover, all you need to do is identify who will run the takeover and choose a time slot of 1-3 days where they can highlight your program, research, project or event. With that information, contact us at 
video@mtu.edu
 to schedule your takeover.
---
Be at the ROTC building at MTU at 10:00AM on Saturday, October 5th to start the run! Registration is $20, and the first 50 registrants will receive a free t-shirt. Registration can be done early through the link on our Facebook page (@mtuaas), or at the door on the 5th. There will be prizes and some speakers from the Hubbell VFW!
Please message our Facebook page if you have any questions.
The TSgt. Robert E. LaMotte Squadron is a squadron of Air Force ROTC's Arnold Air Society. Arnold Air Society is a professional, honorary, service organization dedicated to the promotion of air power and service within local communities.
---
Expanded Overnight Study Space in the Library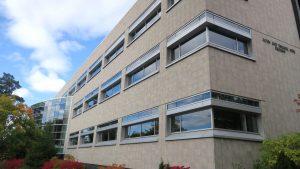 All of the library's second floor public space is now available for overnight study! Students have asked and we listened. The expansion of the library's 24-hour study space allows students overnight access to 7 group study rooms, 44 computers, two printers, and 4 additional restrooms. The entrances to the overnight space will remain the same, either through the Rekhi bridge entrance or the overnight west entrance of the library using a valid Husky ID card.
---
Michigan Tech Recreation Looking for Officials & Lifeguards

Sep 24, 2019
HOUGHTON, Mich. – Michigan Tech Recreation Services is hiring for the 2019-2020 calendar year. Current open positions include Lifeguard, Intramural Official, Climbing Wall Staff, Nordic Ski Wax Techs, and OAP event staff.
Recreational Services is looking to hire lifeguards for the Student Development Complex pool. General responsibilities include monitoring activities in and around the pool area, including practicing preventative lifeguarding by consistently enforcing rules and regulations. Potential applicants must be at least 15 years of age and have a current American Red Cross Lifeguard and CPR certification.
Michigan Tech is also looking for intramural officials. Sports officials are responsible for officiating intramural events for all levels of competition. Officials will be expected to achieve a level of competence in their scheduled sports. Further, they are to comply with all the policies and procedures of the Intramural-Recreational Sports Services office.
Finally, the Outdoor Adventure Program is looking for staff members for the upcoming academic year. Climbing Wall staff must be belay certified or have previous experience belaying at indoor climbing gyms or outdoors. Nordic Ski Wax Techs should have previous Nordic Ski experience, including waxing and sizing for users. General event staff will assist with a variety of OAP events including log rolling, rock climbing, youth events, and special events. Previous experience working in outdoor recreation is preferred, but not required. Specific skills may be required depending on the position, including the climbing wall and ski waxing.
All applicants must be able to work independently, manage risk, and enforce policies in a fair and consistent manner. Interested applicants to all positions may apply here.
---