Patience and perseverance have a magical effect before which difficulties disappear and obstacles vanish.
-John Quincy Adams
---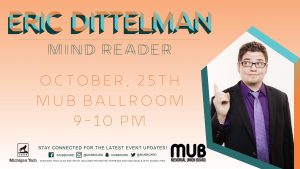 Ever wonder what it would be like to know what someone else was thinking? What if you knew exactly what someone else was going to do before they did it?
Eric Dittelman knows what that's like and has been reading minds at theaters, colleges, comedy clubs, and corporate events all across the country.
Often known by just his surname, Dittelman combines amazing mind reading with stand-up and improv comedy. In 2012, he blew audiences away as the first-ever mind reader on NBC's "America's Got Talent" where he was a season 7 semi-finalist and judges' favorite. He has since appeared on "Ellen", "Live with Kelly and Ryan" and "Penn & Teller: Fool Us" where Penn called his act "bordering on genius!" He's also been featured in "Entertainment Weekly", "Rolling Stone", and even "The National Enquirer".
He has studied improv comedy with Upright Citizens Brigade, Improv Boston and Second City. He was nominated "Fastest Rising Star" and won 2015's "Best Male Performer Award" by Campus Activities Magazine. In 2018, he made his Broadway debut appearing with "The Illusionists".
Late Night Presents: Comedian Lauren Faber
Join us for a night of laughs on Saturday, November 2 at 10 PM in the MUB Ballroom. Late Night presents Comedian Lauren Faber!
Lauren Faber is a feral comedian who was raised in a basement by the 90's comedy specials of Ellen DeGeneres, Paula Poundstone, and Elvira Kurt. (Yes, she sees the connection now.) Her thoughtful comedy and storytelling touches on sexuality, mental health, politics, and her own very, very bad decisions. She has been compared to Kate McKinnon, PBS, and a golden retriever. (No, she doesn't see the connection.)
Lauren's comedy has appeared on Audible's Punchlines. She was a StandUp NBC Semi-Finalist and won the titles of NYC's She-Devil and Carolina's Funniest Comic. She has performed in numerous festivals including Laughing Skull, Limestone, and 208 Fest has shared the stage with the likes of Maria Bamford, Beth Stelling, Fortune Feimster, Iliza Shlesinger, Todd Glass, and Matt Braunger.
When Lauren isn't on stage, she manages international development research at a university in Durham, NC with a very famous basketball team that she cares nothing about. She has two cats, Stetson and Kennedy, and likes one of them. They were a gift. Don't do that.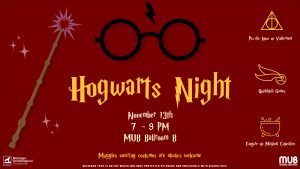 The MUB Board is hosting a Hogwarts Night on November 13th from 7-9 pm in the MUB Ballroom B. This event will have cupcake decorating, quidditch games, and pin the nose on Voldemort. Also, attendees are welcome to wear costumes!
LeaderShape Applications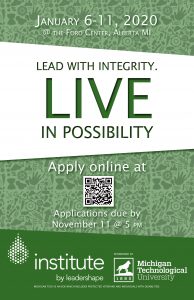 LeaderShape® Institute Applications are open for 2020. This week-long leadership development experience is designed to help people learn to "lead with integrity."
The Michigan Tech LeaderShape® Institute runs from January 6-11, 2020 at the Ford Center. Go to 
LeaderShape
 to learn more and apply!
If you have any further questions, please contact Student Leadership & Involvement in MUB 112 or emailing 
activities@mtu.edu
.
Library Workshops
Poster Design
Making a research poster for a conference or other event? This workshop covers basic tips and tricks for presenting your research and information in a visual format. We'll also look at resources and tools available at the library to help you design and print your poster.
Introduction to Excel
This session will be an introduction to the basic functions of Excel. We will cover tricks for entering data, formatting cells, and basic formulas and charts. The class may get to advanced formulas and conditional formatting; prior to the workshop, a questionnaire will be sent out to determine the level of Excel experience of participants.
---
Film Board Presents: Detective Pikachu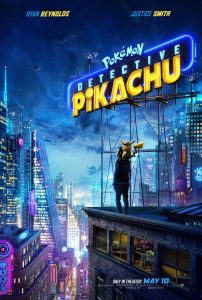 Friday,October 25th @ 5:30, 8:30, 11:30
Saturday, October 26th @ 2:30, 5:30, 8:30, 11:30
Sunday, October 27th @ 2:30, 5:30
Located on Michigan Tech's campus in Fisher 135. Tickets are $3 and concessions are $1 each. We hope to see you at the show this weekend and have a great day!
Detective Pikachu is Rated PG for action/peril, some rude and suggestive humor, and thematic elements.
Want to see what movies we're playing next? Check out our movies and showtimes at the Film Board website: filmboard.mtu.edu
---
Saturday, October 26, 2019
The HAMR is a family-friendly, competitive running event consisting of a 5k and 10k course put on by Michigan Tech's Department of Military Science during peak fall color season. Race funds directly benefit the department and Copper Country Senior Meals. SIGN UP or DONATE TODAY at http://hamr.ss.mtu.edu/

---
HuskyLEAD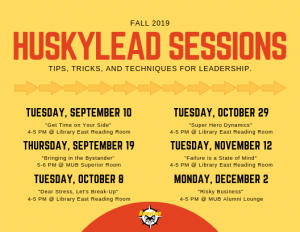 Want to find ways to develop your leadership skills this semester? Come to the Fall 2019 HuskyLeads to gain some tips, tricks, and techniques for personal, organizational, and academic success. HuskyLeads are one hour long sessions for those who want to learn and elevate your leadership skills. Please see the image provided for more information on what workshop is provided and when.
Upcoming ones…

Tuesday, October 29 @ 4:00PM – 5:00PM
Where: Library East Reading Room
"Super Hero Dynamics" 
Tuesday, November 12 @ 4:00PM – 5:00PM
Where: Library East Reading Room
"Failure is a State of Mind" 
Monday, December 2 @ 4:00PM – 5:00PM
Where: MUB Alumni Lounge
"Risky Business"
---
The "Stars of American Ballet" Come to Houghton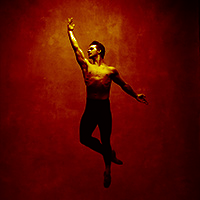 Acclaimed Dancers of the New York City Ballet perform at the Rozsa this Saturday!
Ballet at the Rozsa Center is always a major event. This year, the Rozsa is proud to host a very special performance of Stars of American ballet, bringing the nation's top ballet dancers from the New York City Ballet to the Rozsa stage on Saturday, October 26, at 7:30 PM.  Stars of American Ballet travels to cities nationwide and offers top-notch choreography with principal and soloist-level dancers from major American companies.   With performances billed as "An unapologetic showcase of virtuosity." -The Boston Globe, and "An intoxicating evening even for the non-dancers" – The Pittsburg Star-Tribune, the event promises sheer athleticism and beautiful artistry by principal dancers, soloists, and members of the corps de ballet from the New York City Ballet: Daniel Ulbricht , Brittany Pollack, Teresa Reichlen, Ask la Cour, Unity Phelan, Adrian Danchig-Waring, Alec Knight, and Baily Jones, and featuring works by Balanchine, la Cour and Knight. Tickets are on sale now!
Nanocon
Nanocon is this weekend! Stop by first floor Fisher this Saturday or Sunday for a weekend of nerdiness with several of our student organizations, including the Dance Dance Revolution Club, Dungeons & Dragons, Fighting Game Club, Film Board, Gamers Anonymous, Houghton Anime Review Organization, Husky Amateur Wargaming, Permanent Floating Riot Club, Pokemon League at Michigan Tech, Smash Club, and the Speedrunning Club. There will be activities all day on Saturday starting at 10am and on Sunday from 10am to 4pm. All are welcome!
---
Just one more week till you can get your GLOW on! Booti-Ti Yoga Buti Glow Party Thursday, October 31, 730-9:30pm at the SDC Studio. #butiyoga #huskiesfit
33rd Annual Grimms Fairytales Haunted Haus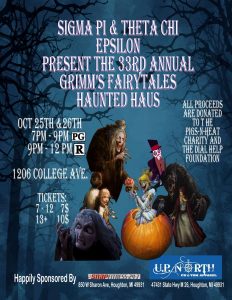 Sigma Pi and Theta Chi Epsilon are hosting a Haunted House next weekend Oct. 25th and Oct. 26th from 7pm-Midnight. All of the proceeds for this event will be donated to Dial Help and Pigs N Heat. This year's theme is Grimm's Fairy Tales. Please click on the flier for more information.
Friday, October 25, 2019
Saturday, October 26, 2019
Earn Your MI Pistol License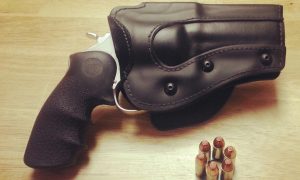 Earn your MI Concealed Pistol License (CPL) through the MCRGO MI CPL course offered Saturday, November 9, at the SDC Shooting Range!
No experience necessary. Must be 20 or older. The class size is limited.
Sign up today! Deadline Nov 2. #cpl #sdcshootingrange
---
Class Tribute Program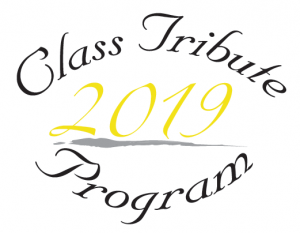 ATTENTION ALL STUDENTS GRADUATING IN December 2019: The Michigan Tech Student Foundation (MTSF) invite you to make your upcoming commencement day even more meaningful by participating in the Class Tribute Program!  It's an opportunity for you to recognize someone special to you in the printed commencement program.
Just go to http://www.mtu.edu/classtributes  for program and participation details.  The deadline for tribute submissions is November 18, Monday.
For questions, contact Adam Portmann at 487-2542 or aportman@mtu.edu.
---
Harmonie Sacrae: KSO at St. Joseph's Church Friday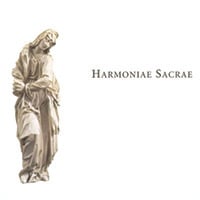 The Keweenaw Symphony Orchestra returns to historic Saint Joseph's Catholic Church for an all-German program of sublime religious works by Bach, Brahms, Wagner, and Mendelssohn's Reformation Symphony.
Keweenaw Symphony Orchestra (KSO) under the direction of conductor Joel Neves, joined by Guest Conductor Brandon Matthews, presents a concert of four works, by the great German composers J.S.Bach, Brahms, Wagner, and Mendelssohn, at 7:30 PM Friday in the beautiful, historic St. Joseph's Catholic Church in Lake Linden.
---
Cookie Decorating Rush with Phi Delta Chi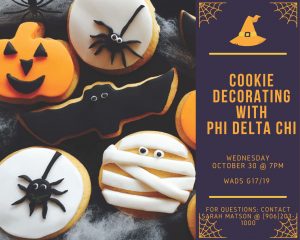 Event Name: Phi Delta Chi: Cookie Decorating Rush
Date: Wednesday, October 30th
Time: 7PM – 8PM
Location: Wads G17/19
Description: Come get in the spooky spirit from cookie decorating with the sisters of Phi Delta Chi! We will provide all the necessary supplies, so just bring yourselves to Wads G17/19 for some fun! For any questions or concerns, contact Sarah Matson at (906)203-1000 or sjmatson@mtu.edu
---
The Department of Visual and Performing Arts and the Quincy Mine Hoist Association announces their spooky Halloween collaboration "A Haunted Mine: The Lost Labs of Dr. Z" Thursday – Saturday, October 24-26; 24th & 25th: 6:00 PM – 10:00 PM; 26th: 4:30 PM – 11:00 PM, in the Quincy Mine.
---
Pizza Info Session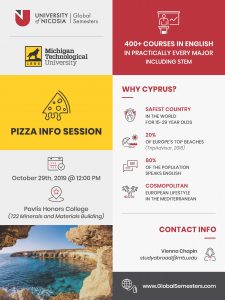 On October 29th a program representative from University of Nicosia, Global Semesters, will be visiting Michigan Tech to promote their engineering, pre-med, computing, and business study abroad programs located at the University of Nicosia in Cyprus — a Mediterranean island country in Europe! You are invited to attend a lunch info session from 12:00 – 1:00 in the Pavlis Honors College office to learn more about their programs. There will be FREE PIZZA! See the attached flyer for more details.

---
Are you getting the winter blues? Missing the sight of green trees and grass? Stop by the Makerspace to make your very own felt succulent. It's not a real plant, but it's soft and easy to maintain.
Friday, November 1st, 5-7pm
Alley Makerspace (Basement of MUB)
Book Binding Night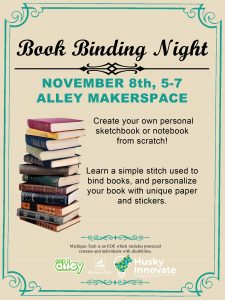 Have you ever wanted to make your own book? Now you can! Learn how to pamphlet stitch a notebook you can use for drawing or writing and decorate it at The Alley Makerspace.
Friday, November 8th, 5-7pm
Alley Makerspace (Basement of MUB)
---