---
HuskyLead: Organizational Finances and Budgeting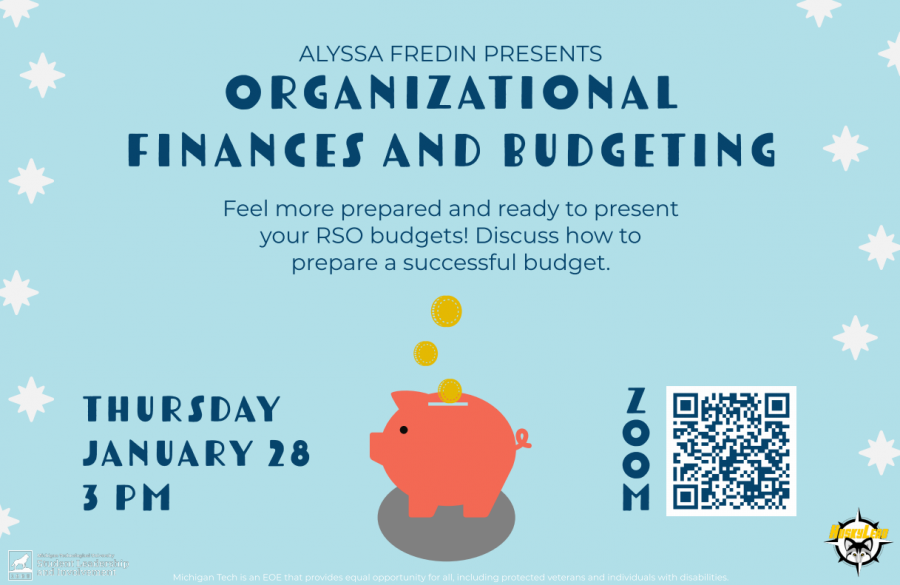 Want to feel prepared and ready to present your RSO budgets? Attend this HuskyLead to discuss organizational budgeting and how to prepare a successful budget for your club. Join us in this Virtual HuskyLead at 3 PM on January 28 on Zoom.
---
Ballroom Dance Class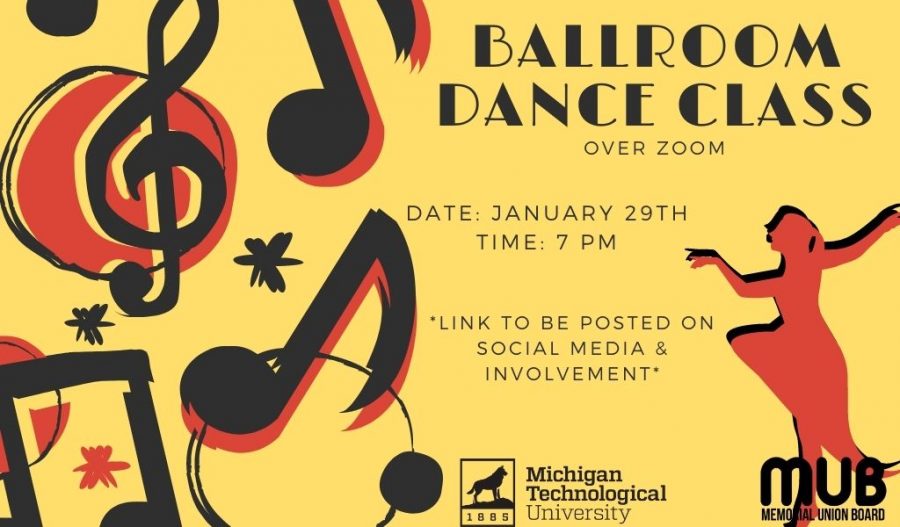 Come dance the night away on Friday, January 29th @ 7 pm. We will be teaching you how to ballroom dance so find your partner! The zoom link for this event can be found on Involvement Link and the Facebook event page!

Follow MUB Board on Instagram and Facebook to keep up to date with our latest events.
---
WMTU Presents: Music Trivia Night 2021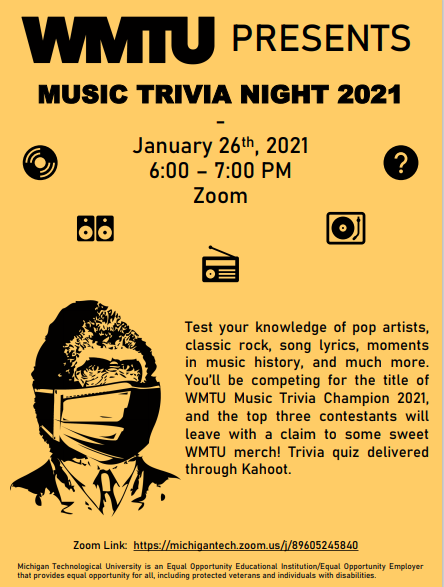 Join WMTU for a virtual music trivia event on January 26th from 6 to 7 PM! Test your knowledge of pop artists, classic rock, song lyrics, moments in music history, and much more. You'll be competing for the title of WMTU Music Trivia Champion 2021, and the top three contestants will leave with a claim to some sweet WMTU merch! Join us on Zoom at https://michigantech.zoom.us/j/89605245840. Trivia will be delivered through Kahoot.
---
Study Abroad Faculty-Led Info Session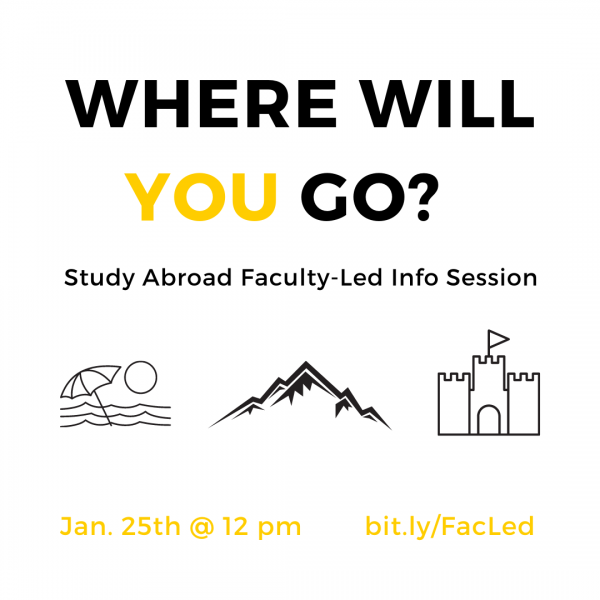 Where will you go? Study abroad faculty-led info session
January 25th, 12:00 pm, Zoom
Registration: bit.ly/FacLed
England, Bolivia, Panama, Peru, Ireland, Guatemala — where will you go this summer? Grab your lunch and tune in to learn more about Michigan Tech's summer faculty-led summer study abroad programs, and how you can go abroad this summer. Contact studyabroad@mtu.edu for questions.
---
---
Attend the Sustainable Film Series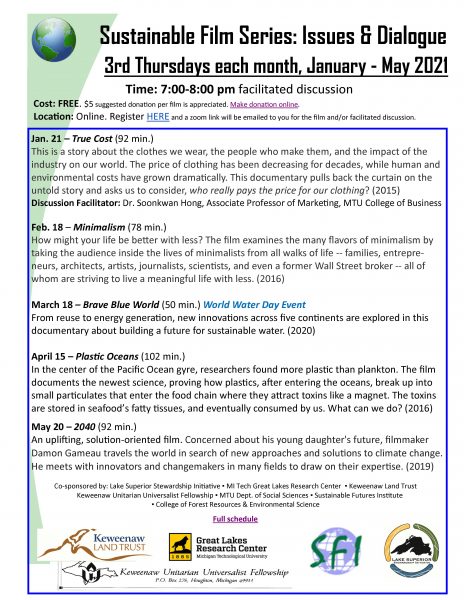 Date & Time: 7:00-8:00 pm, 3rd Thursdays of each month, Jan-May, 2021 (facilitated discussions only)
Cost: FREE, donations appreciated. Follow donation link: Michigan Tech Fund Sustainable Film Series
Location: Online (instructions on how to view each month's film and a zoom link for facilitated discussions will be sent via email to registered participants. Register HERE )
It's time to kick off the 11th annual Sustainable Film & Facilitated Discussion Series! The 2021 Sustainability Film Series (formerly Green Film Series) will allow you to participate, no matter where you live! See the film line-up below and save these dates in your calendar.
Since we are unable to host public gatherings on campus at this time, films and facilitated discussions will be online.
Participants need to register HERE and information will be emailed monthly regarding how to view that month's film, plus a zoom link to the facilitated discussion, 7:00-8:00 pm, 3rd Thursdays of each month, Jan-May, 2021.
The Film Series and facilitated discussions will kick off with the showing of True Cost, a film about the clothes we wear, the people who make them, and the impact the industry is having on our world. The price of clothing has been decreasing for decades, while the human and environmental costs have grown dramatically. This 2015 documentary film investigates who really pays the price for our clothing? The discussion facilitator will be Dr. Soonkwan Hong, Associate Professor of Marketing, MTU College of Business.
"This seemed like an appropriate film for January, after the consumption spree of the holidays!" explained Joan Chadde, film series coordinator, and Director of the Michigan Tech Center for Science & Environmental Outreach. "Dr. Hong is the perfect discussion facilitator for this film, given his interests in marketing ethics, sustainable lifestyles, and consumer behavior."
---
Rozsa Center Presents a digital version of Class Acts with "Smart Art Bites"
The 2020-21 school year has been full of challenge, flexibility and innovation for students, educators and families. At the Rozsa we typically host performance field trips for K-5 classes through our Class Acts program, but this year we've brainstormed something different…and digital. Introducing Smart Art Bites! Smart Art Bites is a 5-episode digital series that offers bite-sized arts lessons for K-5 students, families and teachers to incorporate the arts into everyday learning. Each episode focuses on a different arts skill taught by a professional artist. We will be releasing new videos over the coming weeks, and we've partnered with the Portage Lake District Library to bring you reading lists tailored to each Smart Art Bites episode. Our first episode was released today, Tuesday, January 12, 2021. It can be viewed on the Rozsa Center Class Acts webpage: https://www.mtu.edu/rozsa/community/class-acts/

In our first Smart Art Bites episode Arthur "L.A." Buckner teaches a beat using a low sound and high sound that you can play on objects in your home. Watch as L.A. jams out for a drum set performance and see how the beat evolves. This episode is streaming now on YouTube at: https://youtu.be/J_KOu9Au1gc
---
Denali: Artists Respond to Music Inspired by Wilderness
The Department of Visual and Performing Arts and the Rozsa Center are pleased to announce Denali: Artists Respond to Music Inspired by Wilderness, an exciting collaboration culminating in both a Rozsa Gallery A-Space exhibit "Denali: Artists Respond to Music Inspired by Wilderness," and a virtual event, "Denali: Music and Art Inspired by Wilderness," featuring composers and artists, their music, and the art inspired by it. Denali: Artists Respond to Music Inspired by Wilderness exists in the confluence of two languages-music and visual art. It features eighteen works of art made in response to original chamber music inspired by composers' experiences in Denali National Park, in central Alaska. The in-person gallery experience opens in the Rozsa Gallery A-Space on Friday, January 22, and both the live and virtual events will be available through Saturday, April 17.
---
Innovation Week
Innovation Week is a celebration of innovation both on and off campus. We will host talks with alumni entrepreneurs, showcase campus innovation and interactive events. Learn about innovative research, new ventures, solutions to Covid-19 and education prototypes. Connect with alums, students and faculty. Drop in for one event or several!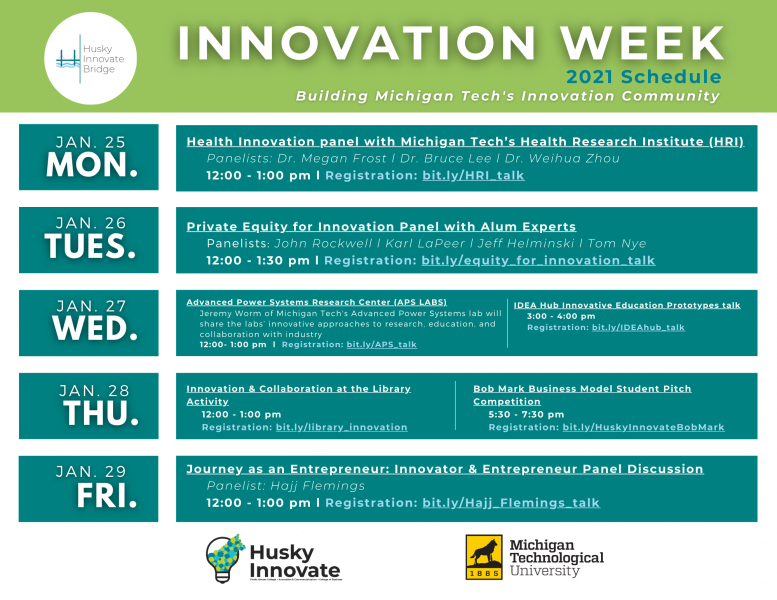 MTU Health Research Institute
Monday, January 25, 12:00 – 1:00 pm
Registration: bit.ly/HRI_talk
Health research at Michigan Tech has been steadily growing for over 10 years. This growth has led to many practical uses for the technology developed. Three researchers, Dr. Megan Frost (Kinesiology and Integrative Physiology), Dr. Bruce Lee (Biomedical Engineering), and Dr. Weihua Zhou (College of Computing) will discuss their experiences with start-ups and apply their research to relevant health problems.
Private Equity Investment for Innovation
Tuesday, January 26, 12:00 – 1:30 pm
Registration: bit.ly/equity_for_innovation_talk
Entrepreneurs exploring financing options for their innovation, future private equity investors, and current equity investors will find this panel discussion with Michigan Tech private equity experts invaluable.
Topics include:
Private investors goals and strategies
The types of opportunities that investors look for
Business stages and when investing is appropriate
Terms involved
Exit strategies for entrepreneurs
Current investment trends in private investing
Panelists include: John Rockwell, Karl LaPeer, Tom Nye, and Jeff Helminski
Advanced Power Systems Research Center (APS LABS)
Wednesday, January 27, 12:00 -1:00 pm
Registration: bit.ly/APS_talk
Jeremy Worm of Michigan Tech's Advanced Power Systems Research Center (APS LABS) will provide an overview of APS LABS and discuss innovative approaches to research, education, and collaboration with industry. A panel discussion with APS LABS leadership will follow the overview.
Michigan Tech's Advanced Power Systems Research Center (APS LABS) is focused on clean power generation and nearly all aspects of mobility with emphasis on ground vehicle systems. APS LABS is a full service organization conducting fundamental research, applied research & advanced engineering, product development, and validation testing. APS LABS supports commercial partners ranging from start-ups to Fortune 100 companies, and serves in a lead, or sub-role on many government contracts with commercial partners.
IDEA Hub Innovation Hour
Wednesday, January 27, 3:00 – 4:00 pm
Registration: bit.ly/IDEAhub_talk
IDEA Hub leaders will share their innovative education pilot projects and approaches to address the challenges of Education in the 21st Century.

Innovation and Collaboration at the Library Activity
Thursday, January 28, 12:00 – 1:00 pm
Registration: bit.ly/library_innovation
Join us for a fun mixer activity at the Van Pelt and Opie Library in which we'll see first-hand how collaboration leads to innovative solutions. Libraries are inherently interdisciplinary spaces that can serve as a jumping off point for active collaboration and innovation. Join librarians Jenn Sams and Erin Matas for a speed collaboration activity designed to let you meet new people, see a problem through a different lens, and inspire innovation. They will also share highlights about how the library supports and participates in innovative activities via a Patent & Trademark Resource Center, the 3D printers, and its innovative response to Covid-19.
Bob Mark Business Model Pitch Competition
Thursday, January 28, 5:30 – 7:30 pm
Registration: bit.ly/HuskyInnovateBobMark
Pitch your idea and potentially win some cash! This year, we'll be accepting two-minute idea pitches (evaluated on uniqueness and potential impact) and four-minute business model pitches (evaluated on scalability and actionable business models.) Register to compete by January 25, or join us in the audience to watch the event. Thousands of dollars worth of prizes offered!
Journey as an Entrepreneur with Hajj Flemings
Friday, January 29, 12:00 -1:00 pm
Registration: bit.ly/Hajj_Flemings_talk
Join us for a talk with entrepreneur and author Hajj E. Flemings, Michigan Tech Mechanical Engineering ('96) alum. Hajj will share his journey as an innovator and entrepreneur. Hajj has long embraced the entrepreneurial mindset and chose Michigan Tech because he enjoyed solving problems. Hajj is the founder of Rebrand Cities, a brand strategy consulting company that serves clients such as Cadillac, Pfitzer, Walt Disney and the Detroit Lions, to name a few. Hajj authored, The Brand YU Life: Re-thinking who you are through personal brand management.
In 2011 Hajj was featured on CNN's documentary series, "Black in America: The New Promised Land – Silicon Valley". During filming of the series, he came to a deeper understanding of the meaning of "digital divide" for communities of color and dedicated himself to creating solutions. His insight led him to become founder and CEO of Brand Camp University, an educational platform that creates technology accessibility and supports job readiness for clients in underserved communities. In parallel, he led a new global civic design initiative within Rebrand City which focuses on eradicating the digital divide by getting 10,000 small businesses online.
---
Get Well, Stay Well
Looking for connection, support and opportunities to grow your well-being this spring? Check out the groups and workshops from the Center for Student Mental Health & Well-being. Groups and workshops focus on topics ranging from reducing stress, improving career confidence, mindfulness, depression, & anxiety – we've got opportunities for anyone to connect!
For more information and to register for a workshop click here.
For more information about groups click here.
---
SDC Hours
The SDC will have updated building hours beginning Tuesday, January 19 through April 30. Reduced Spring Break hours will be posted at a later date. For details visit michigantechrecreation.com.
---