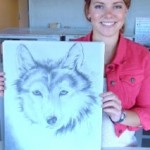 Lindsey Licht, a fifth-year exercise science major, is also an artist, and two of her sketches have been selected for display in the House of Representatives Office Building in Lansing, part of the annual Art in the House exhibit.
Licht's teacher is pleased. "I have had Lindsey in several art classes," says Susan Kilpela, senior lecturer in visual and performing arts.
Read more at Michigan Tech News, by Dennis Walikainen.