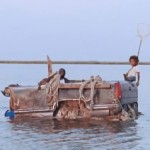 The 8th Annual Northern Lights Film Festival will be held November 1, 2 and 3rd in McArdle
Theatre on the Michigan Tech Campus. Featured this year are filmmaker Ray Tintori and the
award-winning dramatic film Beasts of the Southern Wild (Zeitlin 2012). Tintori headed up the special effects unit for the film and is a member of the independent filmmaking collective Court 13. Tintori will introduce the film on Friday evening at 7 p.m. and participate in a Q&A following the film. Beasts will be shown again at 9:30 p.m. on Friday. On Saturday at 2 p.m., Tintori will screen some of his short films and music videos and join in an informal discussion with students and festival-goers about independent filmmaking.
Other festival highlights include recent award-winning documentaries and narratives films including El Velador (Natalia Almada, 2012), The Interrupters (Steve James, 2011), Only the Young (Elizabeth James and Jason Tippet, 2012) and The Arbor (Barnard, 2010). The festival will conclude with Lynne Ramsay's We Need to Talk About Kevin (2011) with Tilda Swinton and John C. Reilly.
The Northern Lights Film Festival is sponsored by the departments of Humanities and Visual and Performing Arts and Cin/Optic Communication and Media Enterprise Team. It is free and open to the public. For more information, please contact Erin Smith at smitherin@mtu.edu or (906) 487-3263. Michigan Technological University is an Equal Opportunity Educational Institution/Equal Opportunity Employer.
The full schedule and information about the films are available at: http://hdmzweb.hu.mtu.edu/wp/nlff2012 or visit the Humanities Department website http://www.mtu.edu/humanities quick links section.
Film Festival a success
Read more at the Michigan Tech Lode, by Nicole Iutzi.