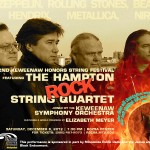 As the world's best selling string quartet, HSQ plays classically influenced arrangements of Led Zeppelin, Rolling Stones, Beatles, Jimi Hendrix, Metallica, Nirvana, and more. Wireless Magazine says: "One listen will change the way you hear both classical and pop music."
The HSQ will be the featured guest artist for the 2nd Keweenaw Honors String Festival, with high school string players from Houghton, Negaunee, Marquette, and Escanaba joining the string quartet and KSO in clinics, masterclasses, rehearsals, and the closing concert. The public is invited to the following events during the Festival (all on the Rozsa stage):
*4-6 p.m. Masterclass with HSQ and student musicians (Friday, Dec. 7)
*1-2 p.m. Q&A with HSQ (Saturday, Dec. 8)
*7:30-9:30 p.m. KSO/HSQ/Festival Combined Concert (Saturday, Dec. 8)
Read more at Tech Today.
Hampton String Quartet and KSO at Rozsa
Read more at the Michigan Tech Lode, by Alex Saari.
Rock and classical music collide
HSQ joining forces with KSO, high school musicians
The Keweenaw Symphony Orchestra will open Saturday night's concert with a performance of a pair of the movements of Gustav Holst's "The Planets," as well as a world premiere by composer Elizabeth Meyer. HSQ will then take the stage and perform a variety of rock classics from Jimi Hendrix to Nirvana.
Read more at the Mining Gazette, by Zach Kukkonen.
Hampton String Quartet Rocks the Rozsa
Saturday night, local string players were honored to perform with the Hampton Rock String Quartet
Read more at the Michigan Tech Lode, by Travis Pellosma.