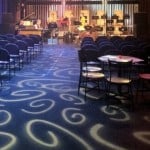 Jazz Cabaret: Backstage at the Rozsa
See the Rozsa stage transformed into an intimate jazz-club atmosphere for the Jazz Cabaret: Backstage at the Rozsa. The Rozsa stage will become a jazz lounge with cocktail tables and cash bar, and of course hot jazz provided by two Michigan Tech jazz ensembles, Momentum and the Research and Development Big Band. Experience live jazz at 7:30 p.m. this Friday and Saturday, Jan. 25 and 26.
Read more at Tech Today.
Cold nights, hot jazz
Read more at Michigan Tech Lode, by Alex Saari.
Jazzin' it up at the Rozsa
"I've had people tell me it's like a jazz buffet," said Mike Irish, director of jazz studies at Michigan Technological University. "There's really something for everyone and I like to give that wide variety."
Read more at the Mining Gazette, by Zach Kukkonen.