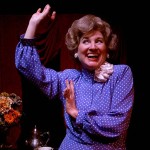 "TEA FOR THREE: Lady Bird, Pat & Betty"
OFFERS PORTRAITS OF THREE FORMIDABLE FIRST LADIES
Three former First Ladies will be sharing secrets at Michigan Tech, on Wednesday, April 10, at 7:30 p.m., in the unforgettably vivid one-woman show, TEA FOR THREE: Lady Bird, Pat & Betty, in the McArdle Theater.
Written by Eric H. Weinberger with Elaine Bromka, and starring the Emmy Award-winning Ms. Bromka, the play is a witty and intimate re-imagining of three women who suddenly found themselves celebrities — a behind-the-scenes look at Lady Bird Johnson, Pat Nixon, and Betty Ford, revealing the personal cost of what Mrs. Nixon called the "hardest unpaid job in the world."
Touring the country, Tea for Three has been critically acclaimed for its blend of humor and passion, cited as "marvelous, poignant" (The Star-Ledger, Newark, N.J.) and "a fascinating evening, laced with insight, emotion and humor… brilliant acting" (The Record-Review, in Westchester County.) The show will open Off-Broadway in June 2013.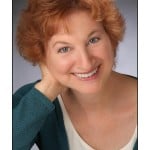 Ms. Bromka has over thirty years' experience in film, television, Broadway, and off-Broadway. She appeared as the mom in Uncle Buck with John Candy, as Stella on Days of our Lives, and on E.R., The Sopranos, and Law and Order.
The inspiration for Tea for Three came about when Bromka starred opposite Rich Little in The Presidents, which she performed across the country and on PBS. Called upon to impersonate eight of the most recent first ladies, she ended up spending months poring over videotapes of the women. Studying nuances of their body language and speech patterns to explore psychologically why they moved and spoke as they did, she became more and more drawn in by their personalities.
"These were women of intelligence and grit who suddenly found themselves in a fishbowl," Bromka observed. "I realized I wanted to tell the story from their point of view."
"And I wanted to explode myths. Pat was called 'Plastic Pat' in the press, for example, because she was always smiling. Look more closely at her eyes, though. There's nothing plastic about her. You see the eyes of a private, watchful survivor."
Her collaborator, Drama Desk and Lucille Lortel Award nominee Weinberger, is the author of several off-Broadway plays, including Wanda's World and Class Mothers '68. He and Bromka zeroed in on the three women, linking their stories by revealing each one at the threshold moment of the end of her time in the White House.
Directed by Byam Stevens, the eighty-five minute performance will be at 7:30 PM, Wednesday, April 10, 2013, at McArdle Theatre. Free admission.
Sponsored by the Visiting Women & Minority Lecturer/Scholar Series, which is funded by the President's Office and a grant to the Office of Institutional Diversity for the State of Michigan King-Chavez-Parks Initiative.
Elaine Bromka
Elaine has been a professional actress for over thirty years. Film: Cindy, the mom in Uncle Buck; In the Family, Without a Trace. T.V.: Sex & the City, E.R., Made in Jersey, The Sopranos, Providence, Dharma & Greg, Law and Order, Law and Order: Special Victims' Unit and Criminal Intent, Stella Lombard on Days of our Lives, the Emmy Award-winning Playing for Time with Vanessa Redgrave and Catch a Rainbow, for which Ms. Bromka herself won an Emmy. She has appeared on Broadway (The Rose Tattoo, I'm Not Rappaport, Macbeth) and off-Broadway (Cloud 9 at the Lucille Lortel, the Roundabout's Inadmissible Evidence with Nicol Williamson, the world premiere of Michael Weller's Split at Ensemble Studio Theatre and Candide with the National Theatre of the Deaf.) She has played leads at regional theaters across the country, including Long Wharf, Hartford Stage, Center Stage, Actors Theatre of Louisville, ACT/Seattle, O'Neill Playwrights Conference, Shakespeare and Company, McCarter Theatre, Pittsburgh Public Theater, and the Folger Theatre Group. Her portrayal of Shirley Valentine at the George Street Playhouse was cited as the 1997 outstanding solo performance in New Jersey by the Star Ledger. Ms. Bromka has performed her one-woman show, TEA FOR THREE: Lady Bird, Pat & Betty across the country. The impetus for that play came from her portraying eight First Ladies opposite Rich Little in The Presidents on tour and for PBS.
She is a member of The Actors Studio and Ensemble Studio Theatre. A Phi Beta Kappa graduate of Smith College, she returned as a faculty member, teaching "Acting for the Media" there. As a guest artist, Ms. Bromka has taught her one-day "Acting for the Camera" and "Making Your Monologue HOT" workshops at more than ninety colleges and prep schools across the country.
Color character shots by Ron Marotta:
Lady Bird Johnson — in pink dress
Pat Nixon — facing to the side a bit, in teal blue dress
Betty Ford — with hands in air, in periwinkle polka dot dress
Betty Ford – in bathrobe