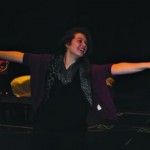 CELEBRATE 'TRADITION' WITH THE BELOVED BROADWAY MUSICAL "FIDDLER ON THE ROOF"
The Tech Theatre Company and Keweenaw Symphony Orchestra present one of the most-loved Broadway musicals of all time, "Fiddler on the Roof," this Thursday, April 18th through Saturday, April 20th, at 7:30 PM, in the Rozsa Center for the Performing Arts at Michigan Technological University. "Fiddler on the Roof," is a timeless tale of a father trying to maintain traditions at odds with modern culture. "Fiddler" features music by Jerry Bock, lyrics by Sheldon Harnick, and book by Joseph Stein, set in Tsarist Russia in 1905. It is based on "Tevye and his Daughters "(or "Tevye the Milkman and Other Tales") by Sholem Aleichem. The story centers on Tevye, the father of five daughters, and his attempts to maintain his family and Jewish religious traditions while outside influences encroach upon their lives.
According to Director Roger Held, "Economic depression, threats of war, ethnic hatred and violence grab at Tevye's shirt sleeve as he makes his way through the world caring for his family and horse, seeing his children married well, and dreaming of a better life. Tevye is "every man," every one of us who share hope, joy, and heartache." Local radio personality Mark Wilcox makes his Tech Theatre Company debut in the lead role of Tevye. The original Broadway production of the show, which opened in 1964, had the first musical theatre run in history to surpass 3,000 performances.
By Bethany Jones.
'Fiddler on the Roof' at the Rozsa Center
To put it simply, "Fiddler" tells the story of Tevye, who, in order to make his five daughters happy, foregoes tradition and allows them to marry the men they choose, with unforeseen consequences. On top of this, Tevye must also deal with antisemitic threats.
Director Roger Held said "Fiddler on the Roof" is a show that's been talked about being performed in this area for a while but hadn't had the opportunity to get it off the ground until now.
Read more at Mining Gazette, by Scott Viau.
"Fiddler on the Roof"
Classical musical to be performed on the Rozsa stage next week
Renowned as one of the world's favorite musicals, "Fiddler on the Roof" brings to life a story about the goodness and oddness that life has to offer.
Read more at the Michigan Tech Lode, by Travis Pellosma.