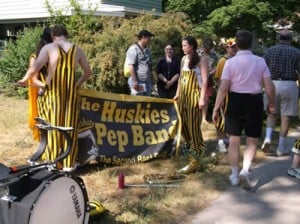 Northwest Michigan Chapter in Cherry Royale Parade
On Saturday, July 6, alumni and friends from the Northwest Michigan Alumni Chapter were joined by students from Advance Motor Sports, Concrete Canoe, the Michigan Tech Pep Band and Blizzard T. Husky and shared their Michigan Tech spirit in the Cherry Royale Parade in Traverse City.
Read more at TechAlum Newsletter, Alumni Around the World.
Visit the Northwest Michigan Chapter – Michigan Tech Alumni Association on Facebook.
See photos of the 2013 Cherry Royale Parade on Facebook.