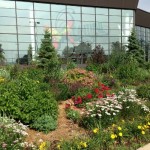 The Rozsa Center for the Performing Arts has announced a 2013-2014 season that includes 25 performances, ranging from Shakespeare's Hamlet to the Tony-award-winning modern spinoff,Rosencrantz and Guildenstern Are Dead; the Keweenaw Symphony and the Superior Wind Symphony;  a jazz cabaret, a Christmas concert, Gilbert & Sullivan's H.M.S Pinafore. The lineup includes films, music, lectures, plays comedy and dance.
Season tickets are on sale now through Aug. 31. Two season ticket packages are available. A full season ticket package offers 30 percent off the single-ticket price of all 25 shows. A "pick 6" package is also available.
Read more at Michigan Tech News.