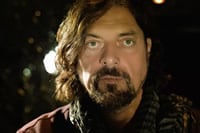 PJ Olsson to hold Rock Camp fundraiser concert
Alan Parsons will also be participating
Houghton native PJ Olsson will be performing at 7:30 p.m. on March 8 at the Rozsa Center. His performance is not for any personal gain, but to help fund Rock Camp, an event that helps foster musical talent in the area that Olsson and co-founder and partner Todd Brassard have put on since 2009.
Aside from inspiring people with music, Olsson said that Rock Camp is so important to him because growing up in this area there was a lack of opportunity for him growing creatively.
"Creative opportunity wasn't there," Olsson said.
But Olsson credits his father, Dr. Milton Olsson, with helping to bring culture to the area with the Rozsa Center and he credits teachers with helping to instill it within himself.
Read more at the Mining Gazette, by Scott Viau.
Saturday, March 8, 2014 | ROZSA CENTER | 7:30 PM | BENEFIT FOR THE 2014  "PJ OLSSON'S ROCK CAMP" WITH TICKETS BY DONATION, "PAY WHAT IT'S WORTH TO YOU!"
Olsson, Parsons talk Rock Camp concert
Olsson spoke about the concert Friday along with rock legend Alan Parsons, in whose band, Alan Parsons Live Project, Olsson has been lead singer for the past decade. Each camp costs $35,000, Olsson said, including paying for children who can't afford to participate.
Read more at the Mining Gazette, by Garrett Neese.