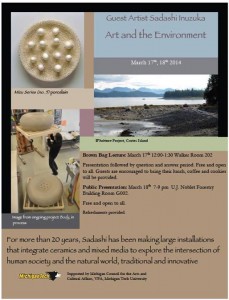 Sadashi Inuzuka's transcendent ceramic art is celebrated for exploring the overlap between the natural world, science and society. Over the past 20 years, Inuzuka has exhibited his work to national and international audiences.
After having been deemed legally blind, Inuzuka was discouraged from pursuing a career in the arts, but he used his visual impairment as a motivation to reach out to other disabled individuals and to help develop their own artistic identities.
Inuzuka has been awarded a University of Michigan Thurnau Professorship, the highest award for undergraduate teaching. Inuzuka is considered a pioneer in the design and implementation of community engagement courses. He has created courses that enable students to see first-hand the role art can play in social change.
At Michigan Tech, he will help students move beyond their perceived creative limitations in an open, brown bag luncheon discussion. He will share images of his diverse artwork to help lead the discussion. The event is free, and all are welcome, Monday, March 17, from 12 to 1:30 p.m., Walker 202.
Inuzuka will also meet with Michigan Tech students in courses such as Creative Ceramics, Art Appreciation and Creative Drawing.
He will discuss his current artistic endeavors, especially "Whaletown" Project, at a lecture free and open to the public on Tuesday, March 18, from 7 to 8 p.m. on at the U. J. Noblet Forestry Building G002.
Support for the visit comes from the Department of Visual and Performing Arts and the Michigan Council for the Arts and Cultural Affairs.
Telling his story through clay
Chronicling his journey as an artist, renowned ceramist Sadashi Inuzuka took students and others at Michigan Technological University from the first time he touched clay as a student in Vancouver until now during an open discussion Monday.
"The first time I touched clay, something went through my body and I said, 'this is it.'" Inuzuka said. "I didn't know anything about art but I knew I wanted to make something."
Read more at the Mining Gazette, by Meagan Stilp.