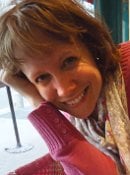 Lisa Johnson, MFA
Lisa Johnson joins the Department of Visual and Performing Arts from the Iowa Lakeside Laboratory.
Johnson received an MFA and an MA with a focus in sculpture from the University of Iowa.
Johnson has been involved in projects like Place-Map-Place, Trench(era), The Eva Luna Project and Kotcich. She also has experience with digital, audio and video production; performance development; woodworking; figure modeling; plaster casting and mold making; and papermaking.