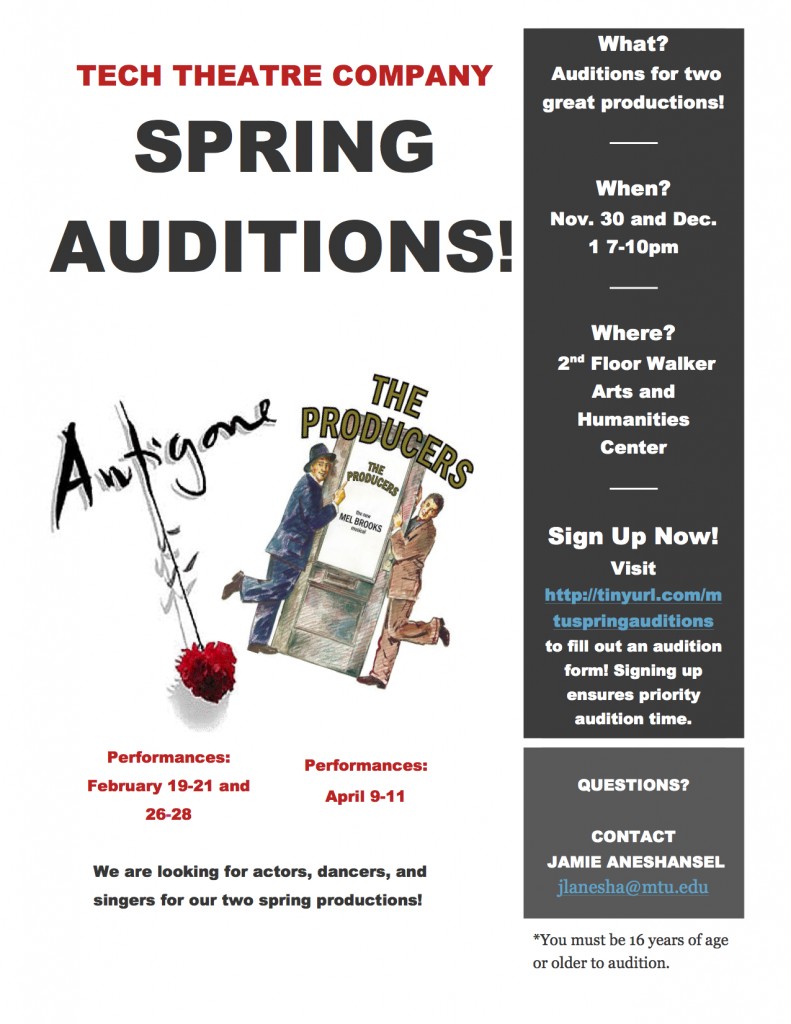 Tech Theatre Company
Spring Auditions!
Antigone
The Producers
Auditions
November 30 and December 1, 2014, 7-10 pm
2nd Floor Walker Arts and Humanities Center
Signing up ensures priority audition time. We are looking for actors, dancers, and singers for our two spring productions!*
Performances for Antigone will be February 19-21 and 26-28, 2015.
Performances for The Producers will be April 9-11, 2015.
The Rehearsal schedule may vary but most rehearsals will be Sunday–Thursday, 7:00-10:00 pm.
A finalized rehearsal schedule will be sent out after auditions.
*You must be 16 years of age or older to audition.
Contact Jamie Aneshansel (jlanesha@mtu.edu).
Tips: 


Familiarize yourself with the audition material so you understand the plot and characters.
Practice so that you can make the most of eye contact when you read with a partner.  (Try to glance at the script and deliver the line to the other person and really listen and respond to them.)
Below are summaries of the plays:

Antigone is chronologically the third part of the Oedipus Rex Trilogy which tells the story of Antigone, the daughter of Oedipus, after her father's death. The story opens at the end of a battle between Antigone's brothers, Eteocles and Polyneices, for control of Thebes. Both brothers died in the battle, but Creon, the new king of Thebes, has declared that while Eteocles should be buried with honors Polyneices body should be left unburied. This is a severe punishment for Polyneices since the Greeks believed that one could not go to the afterlife unless one's body was properly buried. Since she loves both of her brothers, Antigone decides to bury Polyneices in spite of Creon's order and tries to enlist her sister, Ismene, in the task. Ismene refuses to break Creon's law. Antigone says the law of the Gods is more important than mortal man's law. It is ironic that just as Antigone is burying her brother, Creon comes on stage declaring that anyone caught doing so will be put to death.

When Antigone is caught burying her brother, she makes no apology, declaring that she is only doing what is right. Creon is a proud man and no amount of convincing will make him change his mind. The plot thickens as it comes out that Creon's son Haemon is engaged to marry Antigone. He tries to use reason to convince his father that killing Antigone for burying her brother will make him unpopular and hurt his rule. Creon accuses his son of disloyalty and sends Antigone to be locked in a cave with only limited food and water thus sending her to her death. Finally, Teiresias, the blind prophet who foretold the tragedy of Oedipus, arrives and manages to convince Creon to change his mind by foretelling of the deaths that will come from this Creon's action, but it is too late. When they get to the cave, Antigone is already dead, a suicide. Haemon also commits suicide and upon learning of her son's death, Eurydice, wife to Creon, follows her son's example. Creon is left with nothing but his kingship He had put his pride and his power ahead of his family and angered the gods. Although he kept his kingship it was poor consolation for losing both his son and his wife.

The Producers is based around the character of Max Bialystock, a down and out Broadway producer whose latest work flopped on opening night. Max, plagued by his former success and scrabbling to stay afloat, experiences a change in fortune when downtrodden accountant, Leo Bloom, discovers there is money to be made in Max's theatrical failure.  As a result, the two formerly defeated business men form an unlikely union with the goal of creating the world's worst musical. The plot develops as the duo enlists the help of ridiculous and often farcical characters on the way such as former Nazi and on-going Third Reich enthusiast Franz Liebkind, Ulla the blonde bombshell secretary/receptionist and the flamboyant homosexual director Roger De Bris. As a result of the characters combined brainpower and ludicrous behaviour Spring Time for Hitler is born in Broadway.
VPA Holding Auditions for Two Plays on Sunday and Monday
The Department of Visual and Performing Arts is holding auditions for two plays, "Antigone" and "The Producers," on Sunday, Nov. 30, and and Monday, Dec. 1, from 7 to 10 p.m. each night, on the second floor of the Walker Arts and Humanities Center. Performances for "Antigone" will be Feb. 19-21 and Feb. 26-28, 2015. Performances for "The Producers" will be April 9-11, 2015. Students, faculty and community members are welcome to audition.
To audition for a part in either play, sign up using the Google Form to receive audition material and to ensure priority audition time. After filling out this form, you will receive a contact and information form to fill out, as well as all audition material and what to expect at auditions. You are welcome to audition for one or both plays on the same night.
For more information, contact Trish Helsel at helsel@mtu.edu.