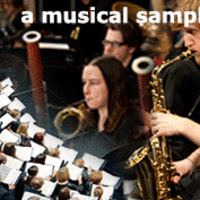 A Musical Sampler will whet your eclectic musical taste buds! Ever wonder what the choirs at Michigan Tech sound like? Want to mash up an evening of Jazz and Wind Symphony? This Saturday night at the Rozsa, you have your chance to sample a bit of each all in one evening.
Michigan Tech's department of visual and performing arts presents "A Musical Sampler, a celebration of music at Michigan Tech."
The concert will feature the Jazz Lab Band, the Superior Wind Symphony, Concert Choir, conScience and the jazz ensemble AstroSax. The show will be 7:30 p.m. Saturday at the Rozsa Center for the Performing Arts. Tickets for the Musical Sampler concert are on sale now, $13 for adults, $5 for youth, and no charge for Michigan Tech students with the Experience Tech fee. Tickets are available by phone at 7-2073, online at Rozsa.mtu.edu, or in person at the Central Ticketing Office in the Student Development Complex.