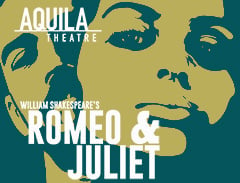 Aquila Theatre is returning to Michigan Tech with the world's greatest love story, Shakespeare's "Romeo and Juliet."
The story is so well known—star-crossed lovers who are doomed from the start—so why is this production special? This minimal adaptation is a joy of the senses: simple, pared-down and shadowy, Aquila's "Romeo and Juliet," directed and adapted by Desiree Sanchez, is a completely new way to experience one of the Bard's most iconic plays. Shakespeare's eight-plus actors are cut down to five, the original seventeen roles reduced to eight. The story is condensed, focused and chiseled away at until it stands out in uncluttered relief.
Experience the beauty of Aquila Theatre's new production of "Romeo and Juliet," at 8 p.m. Thursday, October 22, 2015, at the Rozsa Center for the Performing Arts. There will be a pre-performance discussion with Aquila Theatre tour members at 7 p.m. in the Rozsa lobby. Tickets for Romeo and Juliet are on sale now, $24 for adults, $10 for youth and no charge for Michigan Tech students with a student ID via the Experience Tech fee.
Click here for more information or to order tickets.
From Tech Today, by the Rozsa Center.
Aquila Theatre to present "Romeo and Juliet" Oct. 22 at Rozsa
According to a recent review by Sam Hall, of DC Metro Theater Arts, "This is a very real and very serious production, full of shadows and chiaroscuro light. Romeo and Juliet step onstage as more than horny teenagers or conventionally doomed lovers. They are two young persons come together burning ardently within the flame of life, snuffed out in heedless misunderstanding…. We have here a remarkable fusion of design, text, and performance; of consciousness, scenery, sound, light, space, meaning, and movement. This is Romeo and Juliet as high tragedy, a balletic dream sculpted in moonstone ghost; a lighted candle melting in wax from mise-en-scène to mise-en-scène; a grandeur of poetry and high art. It is beautiful and disturbing. Deeply moving, without a trace of sentimentality."