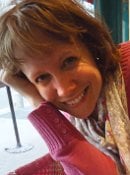 Lisa Johnson (VPA), participated in the public engagement conference, "Imagining America: Artists and Scholars in Public Life," Sept 30 to Oct 3, 2015, in Baltimore. Johnson and other participants worked to re-envision assessment practices, develop new methods for publicly-engaged scholarship, work towards diversity and equity and to connect universities and their communities in mutually beneficial relationships. For more information on Imagining America visit their website.
The 2015 National Conference, entitled America Will Be! The Art and Power of "Weaving Our We," was hosted by University of Maryland, Baltimore County.
The members of Imagining America advance a vision of the world in which publicly engaged artists, designers, scholars, and culture workers play critical roles in enacting the promise and ideals of a democratic society.