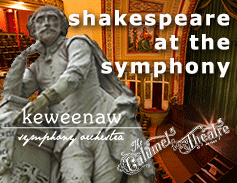 The Keweenaw Symphony Orchestra returns to the Calumet Theatre to commemorate the 400th anniversary of Shakespeare's death. The concert takes place at 7:30 p.m. Saturday, April 15, 2016, at the Calumet Theatre.
The KSO performs orchestral music inspired by several of the Bard's plays, including "The Tempest" (Sibelius), "Hamlet" (Berlioz), "A Midsummer Night's Dream" (Mendelssohn) and "Romeo and Juliet" (Berlioz and Prokofiev).
Music Director Joel Neves (VPA) says "the KSO is excited to perform at the historic Calumet Theatre for the first time since 2011. The music of Shakespeare is dramatic, expressive, colorful, inventive — the perfect companion to his plays. Our concert will be a revelatory experience for those who enjoy the fusion of music and literature. I look forward to sharing this with our patrons."
Tickets are on sale now, $19 for adults, $6 for youth, no charge for Michigan Tech students with the Experience Tech fee. Tickets are available by phone at 7-2073, online, in person at the Central Ticket Office in the Student Development Complex or at the Calumet Theatre Box Office.