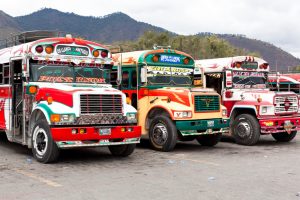 What is a ChickenBus? A chicken bus is a bright, loud, jostling work of public transportation in Guatemala.
The Rozsa Center and Department of Visual and Performing Arts present the Rozsa Gallery A Space show, "ChickenBus," featuring work by VPA faculty member Lisa Gordillo.
"ChickenBus" is the first U.S. exhibit of works inspired by Gordillo's long-term collaboration with Guatemalan artists and writers. The exhibit will run from Saturday (Feb. 25) to Friday, March 24 and will travel to Guatemala this summer
There will be an opening reception from 5:30 to 7 p.m. Saturday (Feb. 25), including a conversation with Gordillo at 6 p.m.
There will also be a second event, a "Marimba Concert and Poetry Night," developed in collaboration with Michigan Tech music students and conducted by Mike Christiansen (VPA), Michigan Tech's Director of Bands, at 6 p.m. Thursday, March 24 in the Rozsa lobby.
This is a special concert and poetry reading that will combine marimba music with readings by Gordillo's husband, Guatemalan writer Hugo Gordillo, whose collections, "Trench(era)" and "Para Escapar de la Muerte," were key inspirations for "ChickenBus."