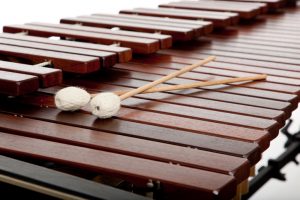 What is a Marimba? Think of a very large wooden xylophone, the national instrument of Guatemala.
The Rozsa Center and Department of Visual and Performing Arts presents Guatemalan writer Hugo Gordillo, and collaborator Zach l'Italian, who will read selections of Gordillo's new poems (in Spanish and English) in a "Marimba Concert and Poetry Night" at 6 p.m. Thursday (March 23) in the Rozsa lobby.
This event was developed in collaboration with Michigan Tech music students and conducted by Mike Christiansen, Michigan Tech's Director of Bands. The Marimba Concert and Poetry event are free and all are welcome.
The Michigan Tech Marimbist Band will play several marimba selections, arranged by Christianson. This event is the closing reception for "ChickenBus: a U.S. Guatemalan Experience," a Rozsa gallery exhibit by Lisa Gordillo.
Several poems in Hugo Gordillo's collection inspired the art in this exhibit. The exhibit will be open before and after the concert.