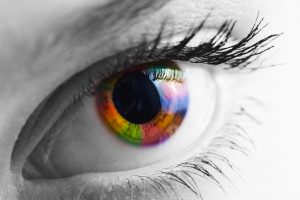 Anne Beffel is asking for volunteer participants in her "Every Color of Eyes" art project. This project makes visible our differences and our common humanity through the metaphor of eye color. Beffel, along with assistants Rebekka Guyon, Alex Pohl, J.P. Rewer and Phillip Wildner, are gathering eye color samples as the basis of a long scroll painting of color-filled circles.
Beffel is asking those who want to help to either email pictures of their eyes to info@EveryColorOfEyes.org or submit them here. Volunteers can also stop by the Studio for Here and Now, located in Wadsworth Hall G04W, from 3 to 5 p.m. today (March 22) or Wednesday, March 29
Beffel's "Every Color of Eyes" will become part of the faculty and staff gallery exhibition, "Amusement Park Avenue," from March 31 to April 31 in the Rozsa Gallery A-Space. An opening reception will be held from 4 to 6 p.m. Friday, March 31. Gallery hours are 8 a.m. to 8 p.m. Monday through Friday and 1 to 8 p.m. Saturday.
For more information, contact Beffel at 7-1732.