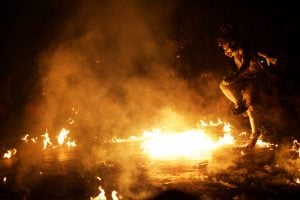 The two wind bands of Michigan Tech, Superior Wind Symphony and Campus Concert Band, will present their yearly combined concert at 7:30 p.m. Thursday (April 20) in the Rozsa Center.
This year's theme is "En Fuego!" — a concert featuring music that is imbued with heat. Mike Christianson, director of bands, will first lead each band individually, finishing with the two combining into a "megaband" of 120 musicians.
According to Christianson, "The music is by composers who hail from exotic climes such as Spain, Brazil, Mexico, Argentina, France, Germany and Saginaw." Music will range from South American symphonies, Spanish jazz arrangements, Afro-Cuban and Latin music, and even a favorite by Stevie Wonder.
Highlights include Handel's "Overture from Music for The Royal Fireworks," "Mambo in F" arranged by Cico O'Farrill, "Cucurrucucu Paloma" with a guest performance by Jared Anderson-voice, "The Maids of Cadiz" featuring guest Aaron Christianson on trumpet and favorites "Don't You Worry 'Bout A Thing," by Stevie Wonder, "Amparito Roca" and "Malaguena."
Tickets for "En Fuego!" are on sale now, $13 for adults, $5 for youth and no charge for Michigan Tech students with the Experience Tech fee. Tickets are available by phone at 7-2073, online, in person at the Central Ticketing Office or at the Rozsa Box Office the evening of the performance. Note that the Rozsa Box Office only opens two hours prior to performances.