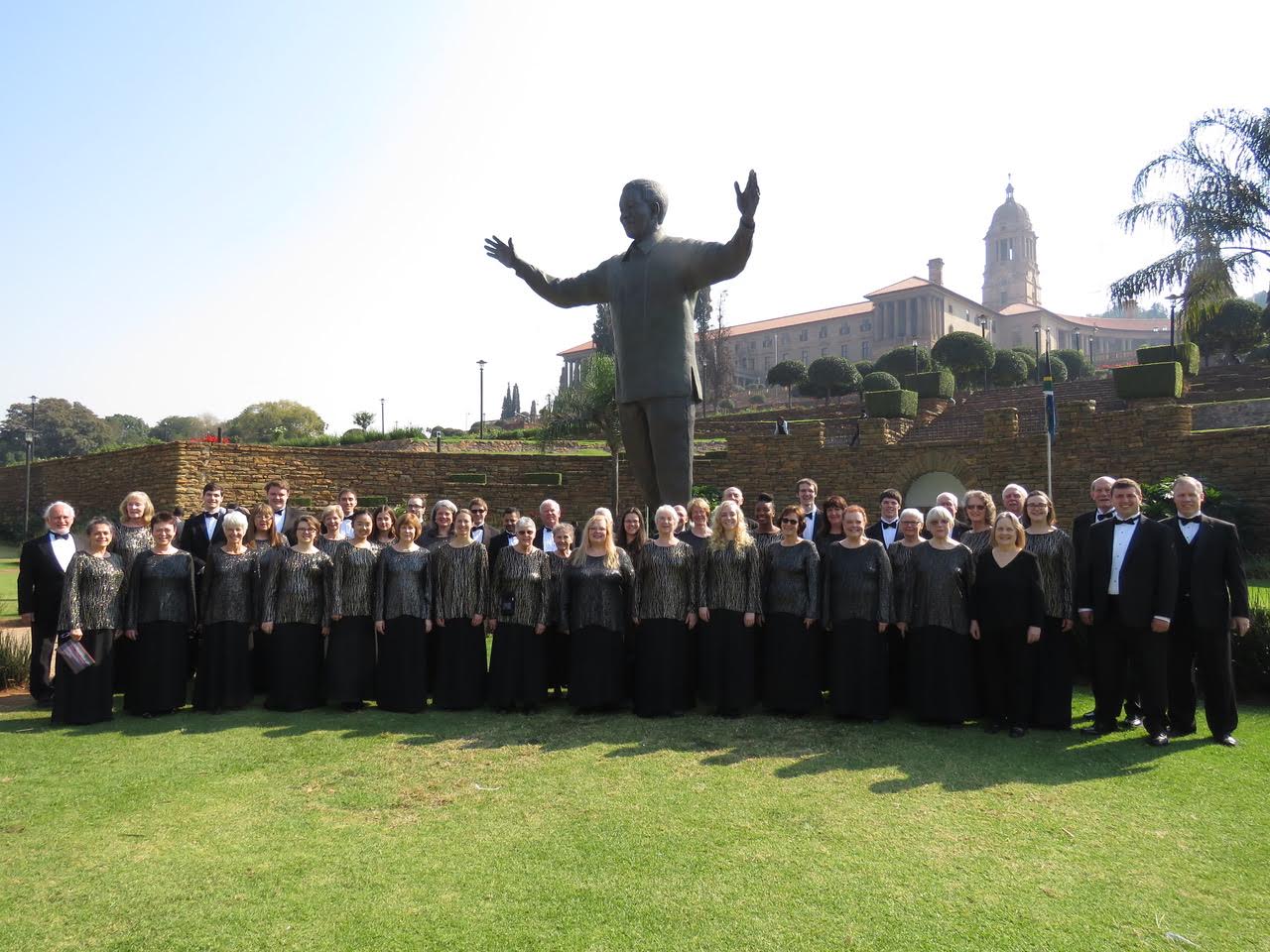 The Michigan Tech Concert Choir, along with friends and family, spent two weeks sharing their music with the people of South Africa. What they received in return, was life changing.
In May, 45 members of the choir, along with 29 guests, embarked on a two-week concert tour of South Africa. The group traveled to Chicago on May 2 and boarded a plane the following day for the 25-hour trip to Pretoria. In addition to concert stops in Pretoria, Johannesburg, Soweto and Cape Town, the they spent three nights in the African countryside at the Cradle Moon Safari Lodge. The group ranged in age from 14 to 87 and included 12 current Michigan Tech students and 19 current or retired faculty/staff members among the singers.
The group performed a total of five concerts; at the University of Pretoria, Holy Cross Anglican Church in Soweto, Hillbrow Theatre in Johannesburg, Old Apostolic Church in Khayelitsha (Cape Town) and Phandulawazi High School, Mitchell's Plain (Cape Town). In addition to the concerts, the choir participated in two church services and five choral workshops and exchanges with local choirs.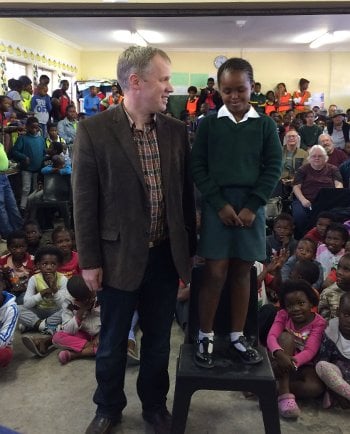 Michigan Tech Concert Choir Director Jared Anderson poses with a new friend during a visit to a South African school. The choir spent two weeks in South Africa in May.
Choir Director Jared Anderson, chair of the Michigan Tech Department of Visual and Performing Arts says the choir also embarked on a pair of outreach activities. "We worked with the Amy Biehl Foundation in Cape Town, with pre-K through grade 12 students in an after-school program that included music," he said. "At the Baphumelele Children's Home, also in Cape Town, our group interacted with orphans, including many who are the victims of the HIV/AIDS crisis in South Africa."
Anderson said the workshops and outreach activities were as significant experiences as were the concerts themselves. "We were able to interact with people who were in difficult situations, but they always had a smile and a great outlook. Something that we could all learn from. Our outreach and concerts all occurred in areas where most Western choirs never visit. We performed in the townships, in churches and schools in the middle of areas that dealt with a lot of poverty."
Student Spencer Carlson of Royal Oak, Michigan, calls the experience "indescribable … this has changed my life in ways I never thought about before the trip," he says. "Living, singing and dancing with the South African people, experiencing a bit of their life … I can't formulate the words. I now have a little bit of Africa in me and I hope this feeling says with me for the rest of my life."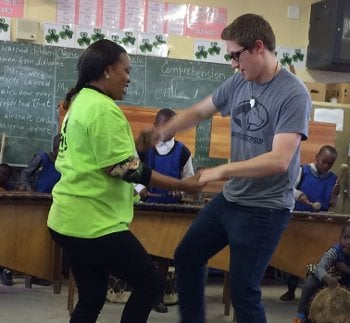 Anderson says the exchanges between the Michigan Tech singers and their South African hosts were indeed "life changing."
"I can't remember concert experiences that were more varied and exciting for our singers. The choirs that we collaborated with welcomed us with open arms and warm hearts. The choir will never forget the experience of singing side by side with people who sing with such spirit," says Anderson.
Scott Sviland was impressed by the audience participation. "It was there from the first song on," the chemical engineering major from Escanaba says. "It was in these moments where you really see how reserved American audiences are compared to audiences in South Africa." Sviland says this was especially true when the Tech choir would sing a South African piece.
"I now have a little bit of Africa in me …" Spencer Carlson

"When we performed 'Hlonolofatsa' and once we started dancing, the crowd went wild. The audiences would make every single performance special and created a truly magical environment."
Sviland was not alone in feeling the trip was about so much more than music. "The people of South Africa have taught me what it truly means to live life. The way many of them live without worrying what people thing of them is now something to which I now aspire."
Anderson said each choir tour ends up being an incredible adventure, but there was something special about South Africa.
"Coming home from South Africa I saw things with new eyes. I know that I am a changed person and I know that many individuals in the choir feel the same way."
Formed in 1980, the Michigan Tech Concert Choir is made up of Michigan Tech students, faculty, staff, retirees and community members. Since its inception, international touring has been an important part of the Concert Choir experience. To date, the choir has toured and performed in Mexico, Central Europe, Eastern Europe, Brazil, Argentina, Chile, Russia, Dalmatia, China, and now South Africa.