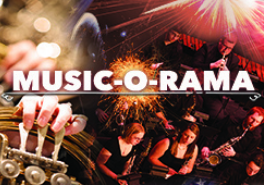 Please join us for Music-O-Rama, an annual musical variety concert, celebrating the diversity, history, and variety of music at Michigan Tech. Performers from all of the major Michigan Tech music ensembles:  Jazz Lab Band, Superior Wind Symphony, Keweenaw Symphony Orchestra, conScience: Michigan Tech Chamber Singers, Michigan Tech Concert Choir, and AstroSax; will appear throughout the hall, playing music from around the globe:  From America to  Latvia, France to Mexico, Brazil to Italy.
The concert will begin on a patriotic note with Igor Stravinsky's arrangement of The Star Spangled Banner, for band and choir. Then enjoy more band and folk music selections including Yankee Doodle, Old Man River, and a Brazilian folk song, Samba-lelê, to stir memories and evoke bygone days. The Department of Visual and Performing Arts presents Music-O-Rama on Saturday, September 30, at 7:30 PM in the Rozsa Center.
"This concert features performances from all of the auditioned music ensembles at Michigan Tech and shows how talented our students are.  Music-o-rama has become an audience favorite for the past number of years for its fast pace and varied repertoire.  I know that the audience will love the show." There will be something for every musical taste, with composers including Igor Stravinsky, Darius Milhaud, Irving Berlin, Jerome Kern, Ottorino Respighi, and Arturo Márquez.  The concert will end with the Superior Wind Symphony and the Keweenaw Symphony Orchestra combining for a performance of "The Pines of the Appian Way" from Respighi's Pines of Rome. — Jared Anderson, associate professor of music, director of choral activities, and chair of vpa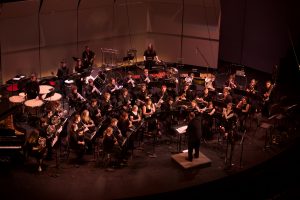 Tickets are on sale now, $13 for adults, $5 for youth, and no charge for Michigan Tech students with the Experience Tech fee. Tickets are available by phone at (906) 487-2073, online at mtu.edu/rozsa, in person at the Central Ticketing Office in the Student Development Complex, or the night of the show at the Rozsa Box Office, which opens two hours prior to performances.