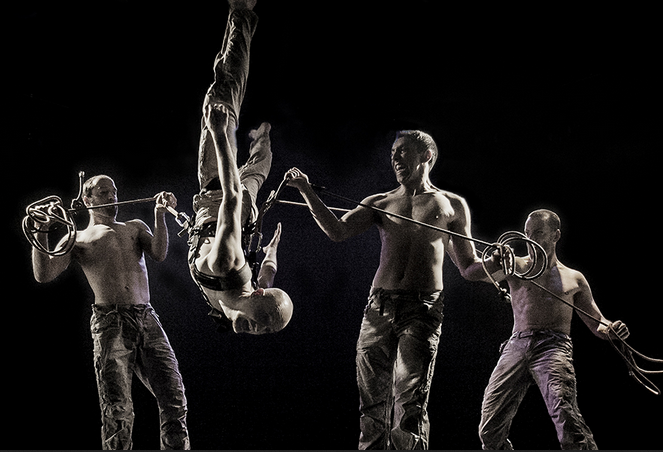 Just in time for Halloween, Bram stoker's "Dracula" comes to the Rozsa Center for the Performing Arts. The classic tale of seduction, desire and madness from the masters of motion theatre.
PUSH Physical Theatre's "Dracula" is an acrobatic spectacle like nothing you have ever seen, a groundbreaking, thrilling and unforgettable ride into the warped world of one of literature's most famous villains. "Dracula" will be performed at 7:30 p.m. Saturday (Oct. 21), at the Rozsa Center.
It's "un-theatre." Intense athleticism, gravity-defying acrobatics and soulful artistry—award-winning PUSH Physical Theatre, the genre-defining masters of physical storytelling, express what it means to be human: the joy and sorrow, humor and tragedy, the big questions and the simple things.
Experience PUSH Physical Theatre's all new adaptation of the classic horror story. In his hunt for immortality, Renfield stumbles upon the Amulet of the Vampir, a lost jewel buried in the legend of Dracula, The Master. Caged in a cell and under the watchful eye of The Doctor, Renfield uncovers the secrets of eternal life as a mysterious Maiden arrives at the asylum.
As the ties that bind the living and the dead begin to unravel, the lines between heroes and the devil begin to blur.
And, an added bonus: Come for the show, stay for the party! Keweenaw Young Professionals Present Cocktails After Dark, a Dracula after-party, in the Rozsa lobby, free for anyone with a ticket to Dracula. Enjoy a cash bar with Dracula-themed drinks, snacks, a "Dracula's Lair" photo booth, and meet the cast of Push Physical Theatre's Dracula.
Tickets for Dracula at the Rozsa Center are on sale now, $22 for adults, $10 for youth (PG-13), and no charge for Michigan Tech students with the Experience Tech fee. Tickets are available by phone at 7-2073, online, in person at the Central Ticketing Office in the Student Development Complex or at the Rozsa box office the night of the show.
Note: The Rozsa box office opens only two hours before performances.