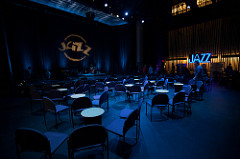 Join Jazz Studies Program Director Mike Irish and the Michigan Tech Jazz ensembles for a Rozsa Club Jazz Showcase: Backstage at the Rozsa at 7:30 p.m. Friday and Saturday (Jan. 26 and 27).
According to Irish, "Diversity in Jazz. That's what you get with the Jazz Combos Backstage at the Rozsa. Three dynamic small jazz groups will be featured. The mainstream jazz offering will be handled by JazTec, featuring two horns and a four-piece rhythm section. Momentum is a funk and fusion ensemble with three horns out front and an electric rhythm section. The guest group for both evenings will be the Dan Fuhrmann Trio, providing the best in piano trio jazz. Music by some of the greatest names in Jazz including Miles Davis, Duke Ellington, Charles Mingus, Art Blakey and the Jazz Messengers, Horace Silver, Herbie Hancock, John Coltrane and many others. There will be something for every taste. Live jazz provides energy, creativity, surprises and is a treat for all of the senses. Join us and immerse yourself in the diversity."
Tickets are on sale now, $15 for adults, $5 for youth and no charge for Michigan Tech students with the Experience Tech fee, available by phone at 7-2073, online, in person at the Central Ticketing Office or at the Rozsa Box Office the evening of the performance. The Rozsa Box Office opens two hours prior to performances.