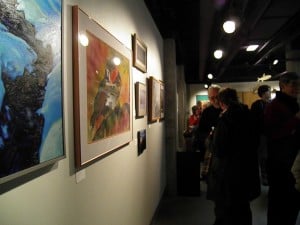 The Rozsa Center and Department of Visual and Performing Arts (VPA) presents the Rozsa gallery b show "Come In We're Open," an open-house exhibition of student sculptors' work in progress, as a part of the Project Learning Lab alternative classroom project.
The show opened Monday and runs until Saturday (March 10). There will be a public reception at 5-6:30 p.m. tomorrow (March 8), is free and open to the public. Gallery hours are 8 a.m. to 8 p.m. Monday – Friday and  1 to 8 p.m. Saturday.
Also ongoing is the Rozsa Gallery A-Space exhibition "Always Room for Rain," presenting the work of artists Raquel Alvizures and Ross Chaney. The public is welcome to experience the progress of visiting artist-in-residence Alvizures, who is painting a mural for the Rozsa Center during the week in the Rozsa North Mezzanine.
Visiting hours to see Alvizures at work are 1-6 p.m. today and tomorrow (March 7/8), and 1-4 p.m. Friday (March 9).
For more information, contact Lisa Gordillo (7-3096).