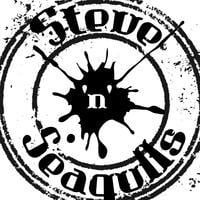 Take well-known rock and metal songs, play them in a bluegrass style and add a decidedly Finnish perspective and you have Steve 'N' Seagulls, one of the best Finnish bands to visit our area in decades.
Steve 'N' Seagulls bring their marvelous musical abilities, humor and unique mix of country and bluegrass at 7 p.m. Wednesday (Sept. 5) to the Rozsa Center for the Performing Arts.
The five-man band from Jyväsjtkä, Finland gained notoriety through YouTube videos. Especially popular was their bluegrass rendition of AC/DC's "Thunderstruck." Steve 'N' Seagulls have released two albums —  "Farm Machine" and "Brothers in Farms," which feature covers such as Guns N Roses' "November Rain," AC/DC's "You Shook Me All Night Long," Led Zeppelin's "Black Dog" the Offspring's "Self Esteem" and Metalica's "Nothing Else Matters."
Tickets for Steve 'N' Seagulls are available online at the Central Ticketing Office in the SDC, by calling 7-2073 or at the Rozsa Center box office starting two hours before the concert.