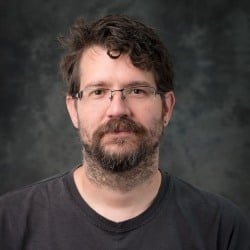 The entertainment industry continues to increase its need for technologically advanced knowledge to realize complex scenic, lighting, and technical effects. Michigan Tech's Visual and Performing Arts Department faculty know this.
Kent Cyr attended an entertainment engineering conference over the summer. The conference was an opportunity to compare notes with other theatre technology educators and industry leaders about the skills needed to succeed in the entertainment technology field. It provided some much-needed discourse about the type of skillsets that are coming out of degree programs, along with a better understanding of how those skillsets can be utilized. They also discussed the educational requirements of colleges and universities in an effort to help the industry understand what to expect from new graduates.
There were many take-aways from the conference for me… not the least of which was increasing my contact with the companies who hire our students. I am looking forward to the next conference and an opportunity to examine and refine the information and skills in which we train our majors.
Cyr brings back knowledge to further VPA's theatre and entertainment technology degree program. The BS in Theatre and Entertainment Technology pairs well with any of the following BS degrees: Mechanical Engineering, Electrical Engineering, Chemical Engineering, Computer Science, as well as the School of Technology applied engineering degrees.