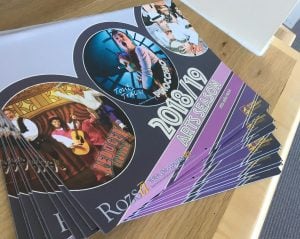 The Rozsa Wall Calendars are here. Pick one up at the Rozsa Center or at any of the more than 120 Houghton and Hancock businesses who display and distribute them each year. For Michigan Tech faculty and staff, we make it easy for you to get your copies of the calendar. If you would like a calendar delivered directly to your campus mailbox, fill out this form. We will gladly send a calendar to you in inter-campus mail.
Featured this year are 12 Rozsa Presenting Series events, more than 33 Visual and Performing Arts events including music, theatre and visual arts events, and the ever-popular 41 North Film festival.  From comedy, to dance, to all-around spectacle, you will enjoy the variety and over-the-top fun of the 2018/19 Rozsa Visual and Performing Arts Season.
We have so much ballet this year. Two nights to experience the magic of the "Nutcracker" in November and December, then the world-famous Les Ballets Trockadero de Monte Carlo in February. —Bethany Jones, Rozsa Center Marketing Manager
Season Ticket Packages are on still on sale, offering savings of 18-37 percent. The popular "Pick 6" Season Ticket Package has returned and is an even better value this year. We brought back both a "Pick 3" option, and the very popular "Family Pack" option that will help you bring the whole family to a big show at an affordable price. We hope there is a package that works for you. Thank you to all of our long-time season ticket holders, we're holding your seats. For new season ticket buyers, welcome, we look forward to seeing you this season. Not interested in a Season Ticket Package? Single-ticket sales began last month.
For more information or to purchase tickets, contact Michigan Tech Ticketing Services at the Central Ticket Office (SDC), call 7-2073 or go online.