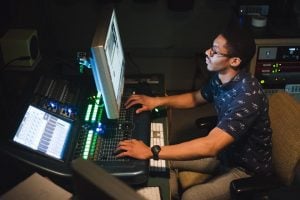 When I started studying audio production and technology, my ultimate goal was to become a Grammy Award-winning music producer. I thought I would need a cool stage name. I gave it some thought, but nothing clicked. Then one day "Smooth Smith" came to mind. It rolls off the tongue. I presented an audio file from my Soundcloud page and my professor and classmates could see the name: Smooth Smith.
After that it just caught on.
Audio production and technology is a very hands-on major. We learn everything that has to do with audio, theatre, film, and studio recording. After graduation, I have a job lined up with a show control programming company in Miami, Florida. I had a great co-op there last semester. During my time there, I worked on the Universal Holiday Parade for Universal Orlando—it was a huge learning experience for me.
The most meaningful part of college so far has been the opportunities I've had through my jobs. I want to thank my supervisors and professors: I wouldn't be where I am now if it weren't for you. Michigan Tech has given me so much. I'm so glad I came here.
I have a few jobs on campus now. I work for Athletics as a broadcast engineer, making sure our audio and video systems are working correctly during sporting events. I also work with Information Technology and as a coach in the Waino Wahtera Center for Student Success.
Wahtera Center helps students who are looking to be more successful in school. I really love coaching! One of my most memorable experiences was returning from my co-op and being specifically requested by a student I had worked with the previous year. I was flattered to see how much they valued our sessions and the impact coaching had on their performance in school.
My favorite part about being a coach is when a student reaches the point where they can come in for a session relaxed and with a smile because they are doing so well in their classes.