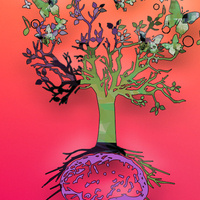 The Rozsa Center for the Performing Arts and the Department of Visual and Performing Arts present a concert by the Superior Wind Symphony titled "Wisdom from Experience," a celebration of the music of long-lived composers, in honor of composers whose lives have been cut short.
The concert takes place at 7:30 p.m. tonight (Nov. 9) in the Rozsa Center.
According wind symphony band leader Mike Christianson, "The Superior Wind Symphony is the premier wind ensemble at Michigan Tech. Superior Winds concerts offer symphonic thrills, innovative programming, fruitful collaborations and exciting premieres. These concerts feature music from the standard repertoire and often utilize innovative formats that include visual art, the spoken word and dance."
Christianson says the ensemble makes its home in the Rozsa Center for the Performing Arts, a hall acclaimed nationally for its acoustics and beauty.
"The ensemble undertakes concert tours on behalf of the university throughout the Great Lakes region. Superior Winds is an auditioned ensemble of winds and percussion that performs the music of composers spanning five centuries, living and not, from all genders, ethnicities and genres" he adds.
Tomorrow's program includes four original pieces by Christianson, along with Kenny Wheeler, Bob Brookmeyer, Florence Price and Maria Schneider.
Other composers whose works will be performed include Ottorino Respighi, John Williams, Jay Bocook, Percy Grainger, Fred Sturm, J.S. Bach, Gustav Holst, WC Handy, William Grant Still and Vincent Persichetti.
Tickets for "Wisdom from Experience" are on sale now, $13 for adults, $5 for youth, and no charge for Michigan Tech students with the Experience Tech fee.
Tickets are available by phone at 7-2073, online at mtu.edu/rozsa, in person at the Central Ticketing Office in the Student Development Complex or at the Rozsa Box Office the evening of the performance.
Note: The Rozsa Box Office only opens two hours prior to performances.