The Rozsa Center for the Performing Arts presents Les Ballets Trockadero de Monte Carlo. The all-male comedy ballet company, beloved internationally since 1974, sacrifices comfort to perform en pointe, tutus and all. Confirming why audiences flock to see them year after year. The "trocks" are witty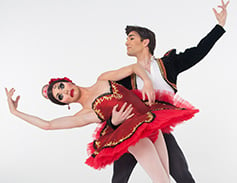 , fun and above all, masterful in the art of ballet.
The Les Ballets Trockadero De Monte Carlo is performing at the Rozsa Center at 7:30 p.m. Saturday, Feb. 16. This event is made possible with support from WGGL Minnesota Public Radio, Keweenaw Pride, and with funding from the Michigan Humanities Council — an affiliate of the National Endowment for the Humanities and the Arts Midwest Touring fund, a Program of Arts Midwest, generously supported by the National Endowment for the Arts with additional contributions from the Michigan Council for Arts and Cultural Affairs and the Crane Group.
Tickets for adults are $28 and  youth $12. Michigan Tech Students are no charge with the Experience Tech Fee.
Tickets are available by phone at 487-2073, online, in person at the Central Ticketing Office in the Student Development Complex, or at the Rozsa box office the night of the show. Note: the Rozsa box office opens two hours before performances.