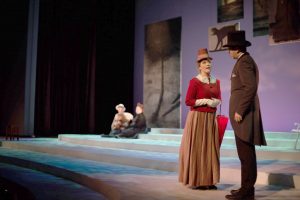 The Rozsa Center, Department of Visual and Performing Arts and the Tech Theatre Company present the VPA 25th Anniversary Season theatre finale, "Sunday in the Park with George," Thursday, Friday and Saturday (April 11-13) at the Rozsa Center for the Performing Arts. Curtain time is 7:30 p.m. each evening.
The musical features junior computer science major Jonah Schulte as George One and George Two. Katy Gula, a junior environmental engineering major, plays the role of Dot.
"Sunday in the Park with George" is a fully staged musical with live orchestra. Stephen Sondheim and James Lapine's lyrical celebration of art, love and children merges image, music and performance to explore the depths of human understanding.
Winner of the Pulitzer Prize and staged around the world, "Sunday in the Park with George" explains the simple essence of life we can all understand.
When considering what to program as the musical theatre offering this year, 'Sunday in the Park with George' kept coming to my mind as a work that represents the department in special ways—a musical about two artists, separated through many years, but intimately connected by their desires to connect through art and to create something new.—Jared Anderson, Chair VPA
Director Roger Held (VPA), describes the play in terms of an intersection and relations between parents, children and art. "Steven Sondheim and James Lapine suggest that, in the end, life comes down to children and art. They mean this, I think, in the broadest sense. In 'Sunday in the Park …', you'll meet two Georges who are artists trying to understand the nature of light in aesthetic experiences."
Tickets are on sale now, $19 for adults, $6 for youth, and no charge for Michigan Tech students with the Experience Tech fee. Tickets are available by phone at 7-2073, through the date links (Thursday, Friday and Saturday) , in person at the Central Ticketing Office in the Student Development Complex or at the Rozsa Box Office the night of the show. The box office opens two hours prior to the performance.