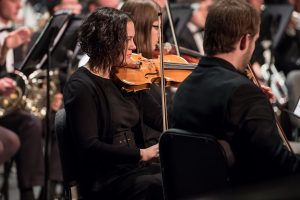 The Keweenaw Symphony Orchestra presents George Gershwin's "Rhapsody in Blue" at 7:30 p.m. Saturday (April 20) in the Rozsa Center for the Performing Arts. Popularized in Disney's "Fantasia 2000," "Rhapsody in Blue" will be performed along with the haunting ballet music to Stravinsky's "Firebird Suite" and the angst-ridden "Chamber Symphony" of Schoenberg.
Joel Neves, conductor for the event, gives a preview, "This is our last concert of the year, so we saved the very best for last. Everyone loves 'Rhapsody in Blue,' one of the great jazz-infused orchestra works of all time. 'Rhapsody in Blue' features local pianist extraordinaire, Jon Ensminger, who plays the soaring, swinging, sophisticated piano solo. Also on the program is sublime music by Verdi, Schubert, and Schoenberg, as well as Stravinsky's magical 'Firebird Suite,' also featured in Fantasia. You don't want to miss this fantastic program!"
Founded in 1970, the Keweenaw Symphony Orchestra is the Upper Peninsula's oldest orchestra. The KSO is a college-community ensemble comprising Michigan Tech students, faculty and staff, and community musicians. Most of the musicians pursue something other than music as a career, with engineers, scientists, mathematicians, educators, and retirees filling the roster. Students occupy about 60 percent of the orchestra; none are music majors. The KSO presents 4-5 concerts per year—including choral-orchestral, opera, ballet, and pops—in the Rozsa Center for the Performing Arts.
Tickets are on sale now, $19 for adults, $6 for youth, and no charge for Michigan Tech students with the Experience Tech fee. Tickets are available by phone at 487-2073, online, in person at the Central Ticketing Office in the Student Development Complex or at the Rozsa Box Office the evening of the performance. The Rozsa Box Office opens two hours prior to performances.