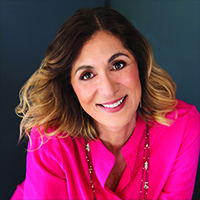 Pioneer pilot Lt. Colonel Olga Custodio will present "Querer es Poder: Where There's a Will, There's a Way" at 6:30 p.m. today (Oct. 21) at the Rozsa Center for the Performing Arts.
Custodio, who after being turned away from flight school because she was a woman, became a pioneer as the first woman — and Latina — to complete United States Air Force military pilot training and become a USAF pilot, and later the first Latina commercial pilot for American Airlines. Now retired, she continues to lead and inspire, championing STEM and motivating women and girls to pursue aviation and male-dominated professions.
This event is part of the Social Justice Lecture Series and Van Evera Distinguished Lecture Series. Tickets are free, but required for all public events at the Rozsa. Tickets are available by phone at 906-487-2073, online, in person at the Central Ticketing Office in the Student Development Complex, or the night of the event at the Rozsa Center box office. Doors open one hour prior to performances.