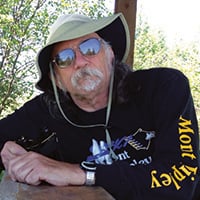 When longtime local resident Ken Steiner suddenly passed away three years ago, family, friends and the entire community came together for a memorial to celebrate all the lives he touched through his decades of good work to make the Keweenaw, and the world, a better place.
From a long list of friends playing the music to the majority of area restaurants where he worked providing food, there was an overwhelming outpouring of love, support and goodwill. Above all, there was a strong sense that the work Ken championed, the positive energy and creative spirit he inspired, would continue, carried forward by those who knew and loved him.
This year, the Rozsa Center, Michigan Tech's Dining Services, Visual and Performing Arts Department, Roy's Pasties & Bakery, Mu Beta Psi, Fifth & Elm Coffeehouse, and the Bonfire Bar & Grill, want to extend that spirit and goodwill by hosting the third annual benefit in Ken's honor for his favorite charity: Little Brothers Friends of the Elderly.
The event, from 6 to 11 p.m. Friday (Jan. 10) in the Rozsa Center Lobby, will feature good food, a cash bar, and once again a host of Ken's friends and former bandmates making the music.
Ticket prices are: $20/donation of your choice. 100% of ticket sales will be donated in Ken's name to Little Brothers Friends of the Elderly.
Musicians featured:
6:30 p.m. — The Steve Jones Trio
7:15 p.m. — Keweenaw Brewgrass
8:15 p.m. — Bob Hiltunen All Stars
9:15 p.m. —Uncle Pete's All-Star BBQ Blues Band with special guest John Peiffer
To purchase tickets, call 906-487-2073, go online, or visit Ticketing Operations at Michigan Tech's Student Development Complex (SDC). Tickets will also be available at the Rozsa Box office on the evening of the benefit.