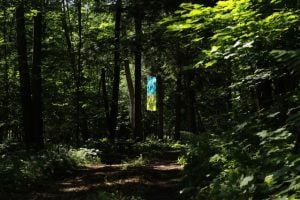 A self-guided tour, Contemplative Forest Art Walks is a series of mindfulness meditation stations in the Ford Center Forest. Each station is marked by a hand-painted, nine-foot-tall banner installed among the trees.
Public reception free and with refreshments on (Wednesday) July 31 from 5 p.m. to 6:30 p.m.
Short remarks by artist Anne Befflel, Professor in Visual and Performing Arts, about the project at 6:15 p.m.
More information and a map can be found at www.annebeffel.com