Visual and Performing Arts announces Adam Meckler as the new Assistant Professor of Music/Director of Jazz Studies.
Mr. Meckler is the third director of the Jazz program that has a 52-year history of Jazz in the Midwest. Originally founded in 1967 under the direction of Don Keranen and continued under the direction of Mike Irish from 1991-2018 the non-major Jazz program at Michigan Tech has thrived at a school largely known for its STEM curriculum.
Dr. Michael Christianson, Director of Bands at Michigan Tech says, "Adam Meckler is a top-class performer and composer, but we were really impressed with his teaching: a great mix of modern and old-school!"
Professor Emeritus Mike Irish also comments, "I am very excited about the hiring of Adam Meckler as the new Director of Jazz Studies at Michigan Tech. He is a young, energetic, and extremely talented teacher/performer who will build on our strong tradition and take it to new levels of achievement. His pedigree is outstanding. I am really eager to have him in town and await the great performances that will ensue!"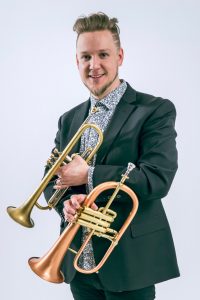 Mr. Meckler expresses his excitement for the post,
"I am humbled and honored to join MTU's esteemed Faculty, and work with the gifted and bright Visual and Performing Arts students at MTU. I am thrilled to carry the torch forward, striving for the high level of excellence established by my predecessors."
Mr. Meckler holds degrees from Lawrence Conservatory and the University of Minnesota. A trumpet player, composer, and educator living in Minneapolis, MN, Meckler is an Edwards Instrument Co. Performing Artist and Clinician, and leads The Adam Meckler Orchestra (AMO), an 18-piece big band that plays his original compositions. The AMO's debut album 'When the Clouds Look Like This' was listed among 2014's Best Jazz Releases by iTunes.
Mr. Meckler will come from faculty positions in trumpet and Jazz at Macalester College, MCTC, and MacPhail Center for Music. He tours and records with The Hornheads (Prince), Youngblood Brass Band, and Nooky Jones, and plays regularly with a host of bands around the Twin Cities including Lulu's Playground, The Jana Nyberg Group, Jack Brass Band, The Graydon Peterson Quartet, and The Pete Whitman X-Tet.
His latest release Magnificent Madness is available via Ropeadope Records, and on all streaming platforms May 3rd, 2019.