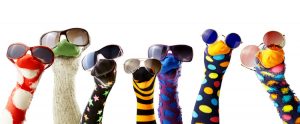 Associate Professor of Theatre in Visual and Performing Arts, Trish Helsel, will be offering a week of puppetry workshops in partnership with the Copper Country Community Arts Center and sponsorship by K. C. Bonker's the week of August 12-17.
The workshop is the culmination of research and work made possible from a REF grant. The Puppet Project is an initiative to introduce and establish the art of puppetry into our local culture through education and performances.
Students of all ages will learn to construct and manipulate various types of puppets. With themes provided by local poets Hugo Gordillo and Kelsey Carriere, the puppets will come to life telling stories of plants, animals, and music!
Classes are carefully designed for the age groups/school grades designated. Please register your child for the appropriate group. Grades are "rising," meaning the grade they will enter this fall. A parent or guardian must be present for classes and the recital for children younger than Kindergarten age.
Classes are offered in the Ballroom at the Copper Country Community Arts Center, 126 E. Quincy Street, Hancock. Dress for mess! We recommend you bring a water bottle, especially for longer sessions.
The Saturday Recital (and rehearsal) will be at Michigan Technological University, in the McArdle Theatre, 2nd floor of the Walker Arts and Humanities Center. Wear dark clothing to make your puppets stand out better!
Registration:
To Register, go to the SDC Ticket Office or register online.
Registration fees cover materials and instruction and vary by age group.
$20 – Toddlers: Monday/Wednesday 9:15am – 10:00am
$20 – Preschool (3-4 years): Monday/Wednesday 11:00am – 12:00pm
$20 – K-2nd Grade: Monday/Wednesday 1:00pm – 2:30 pm
$25 – 3rd-5th Grades: Tuesday/Thursday/Friday 9:00am – 11:00am
$25 – 6th-8th Grades: Tuesday/Thursday/Friday 1:00pm – 3:00pm
$25 – 9th-12th Grades: Monday/Wednesday/Friday 4:00pm – 6:00pm
$30 – Adults: Tuesday/Thursday/Friday 6:00pm – 8:00pm
All registrants must sign a Michigan Tech waiver form.
For more information, contact Trish Helsel: (906) 487-3283, helsel@mtu.edu