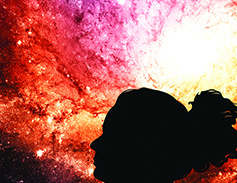 Michigan Tech Theatre Company's first production of the new academic year, "Silent Sky," opens tomorrow at the McArdle Theatre in the Walker Arts and Humanities Center.
In "Silent Sky" playwright Lauren Gundeson tells the story of astronomer Henrietta Swan Leavitt. The play blends the discovery of how to measure the universe with the essence of the discoverer's life story.
Set against the turmoil of the cry for social justice at the beginning of the 20th century, the chronicle of Leavitt counterpoints the power of a passion for work with the desire for love and family.
Join Tech Theatre for a play that contemplates the life, challenges and contributions to our understanding of the universe. Leavitt discovered the first way of measuring the universe, to demonstrate that heavens were larger than the Milky Way, the limit of creation in her day.
"Silent Sky," will be performed six times over two weeks, Thursday – Saturday, October 13 – 15 and again Oct. 20 – 22, in the McArdle Theatre. Performance time is 7:30 p.m. each night.
According to Director Roger Held, "In spite of the confusion of everyday life with family, making a living, paying taxes, enduring schedules, surviving deadlines, coping with aged vehicles, navigating love and sex, being immersed in political realms of all kinds (science, arts and academia included) peopled with an over-abundance of unpleasant and damaged souls, we are buoyed by the passion for doing difficult things: Henrietta Leavitt is one of us; persons who throw a net, gathering in pieces of some realm of endeavor, envisioning the pattern of relationships within the flotsam they've caught and teasingly calculating an understanding of some small piece of a greater puzzle."
Tickets are on sale now, $13 for adults, $5 for youth and no charge for Michigan Tech students with the Experience Tech fee. Tickets are available by phone at 7-2073, online at Rozsa.mtu.edu, in person at the Central Ticket Office in the Student Development Complex or the night of the event, one hour before show time, at the McArdle Theatre Box Office.
by Bethany Jones