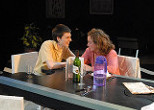 David Mamet's award-winning play "Sexual Perversity in Chicago" is given an inventive new staging by the Michigan Tech Theatre Company.
Opening Thursday in the McArdle Theatre, the play will be presented as a hilarious on-stage  "game show," using mature and graphic language to reveal the awkwardness, heartache and humor of American sexual behavior.
The play opens tomorrow night, with additional performances Friday, Saturday and Feb. 23-25 at the McArdle Theatre in the Walker Arts and Humanities Center. Performance time is 7:30 each evening.
According to Director Roger Held, the Obie (off-Broadway) Award-winning play "explores the nature of sexual relationships: Their awkward, unreasonable natures and how humans stubbornly cling to them in spite of heartache."
In a fun twist to the game show theme, Tech Theatre is collaborating with Student Health and Wellness to help launch the new campus health initiatives, "Let's Talk About Sex" and "Sex-versations."
Part of the play will present "commercial breaks" with information about the two health initiatives. The commercials were created by Wellness students, staff and Held. Wellness will also have a table with information about the initiatives set up in the lobby.
Tickets are on sale now, $13 for adults, $5 for youth and no charge for Michigan Tech students with the Experience Tech Fee. Tickets are available online, by phone 7-2073, in person at the Central Ticketing office in the SDC and an hour before show time at the McArdle box office.