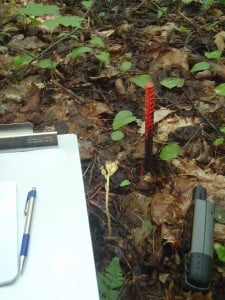 This fall, students in FW4810 "Integrated Resources Management" (a.k.a. "capstone") completed a wall-to-wall inventory on the Alberta and Baraga Plains tracts of the Ford Research Forest. Changes to capstone to emphasize landscape-scale assessments allowed for a unique opportunity to synergize teaching and management on our working forest. The data from the inventory will form the foundation of capstone management projects during the fall semester.
Faculty members Robert Froese and Mike Falkowski designed the inventory, and a total of 356 permanently monumented field plot centres were installed by graduate student Tim Gebuhr during August. A high-precision GPS coordinate was collected for each plot center, so the data from the inventory are also available for research applications that demand high-accuracy spatial referencing, such as remote sensing based models of forest inventory. Examples of such applications are the new Forest Biomass Information System for Michigan (http://fbis.mtu.edu).
For more information, contact Dr. Robert Froese, Director of Reserch Forests, at froese@mtu.edu.