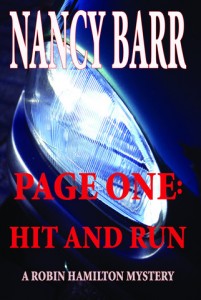 Mystery novelist Nancy Barr, a PhD student in the RTC program and a staff member in the ME-EM Department, was recently featured on two Michigan-oriented websites. She is the author of three novels, Page One: Hit and Run, Page One: Vanished, and Page One: Whiteout, published by Arbutus Press. All three books are set in the Upper Peninsula and feature a strong female protagonist, newspaper reporter Robin Hamilton.
The Motown Writers Network featured her on their site this summer and Michigander Monday posted an interview with Nancy on September 1.
In addition to her busy career and school schedule, she is working on a new novel that is part mystery, part ghost story that shifts between two time frames: the Copper Country's mining boom days in the early 1900s and the early 1970s, shortly after the last mine in Houghton County shut down.