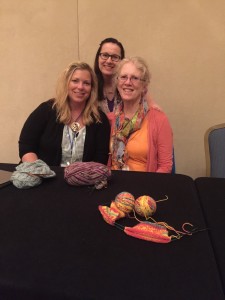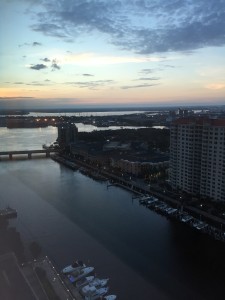 This year, the SSCA met in Tampa, Florida, and I helped organize a panel presentation that focused on the convention's theme, Communication as Arts and Craft. Dr. Carrie West (Assistant Professor of Communication Studies, Schreiner University), Professor Sally Hannay (Professor of English, Schreiner University) and I shared collaborative projects and mentoring techniques that evolved around a small roundtable of knitters who all happened to work in academia, our Stammtisch. While Carrie focused on the community of practice approaches of the Stammtisch, Sally shared her pedagogy on how to integrate a service-learning component into her Technical Communication classroom. I then wrapped up our panel by discussing the successes and obstacles when launching an international charity project that is based on grassroots activism. StreetKnits consists of a vibrant community of knitters from various countries (United States, Germany, Spain, Canada) who donate knitwear to homeless shelters in the Midwest.
Our panel was very well received. In fact, an ESL instructor from Georgia might be a new StreetKnitter and plans on starting a similar community outreach project on her campus, linking StreetKnits to refugees.
I also enjoyed several other panels on intrapersonal communication, rhetoric and ethics. Communication Studies is such a multi-facetted field and offers a big variety of exciting talks at a conference. Unfortunately, my flight to Chicago got canceled on Thursday and I did not arrive in Tampa until Friday night which resulted in a very short stay. But my colleagues and I plan on paneling again at next year's SSCA convention in Austin, Texas, and I plan on submitting a paper on my own as well.
I would like to thank the Humanities Department and the Student Government for making this trip possible. StreetKnits is a project dear to my heart and sharing my ideas with like-minded people was a wonderful and inspiring experience. Also, I would like to thank several faculty members: Dr. Patricia Sotirin, Dr. Jennifer Slack, Dr. Stefka Hristova and Dr. Lauren Bowen have been immensely helpful in assisting me getting started with the IRB process, they introduced me to fellow scholars in the field and they helped me brainstorm about how to build a StreetKnits community at Michigan Tech.