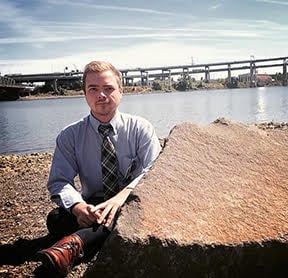 Daniel William Lawrence received his PhD in rhetoric and technical communication from Michigan Technological University in August 2014.
His dissertation, On the Digital-Political Topography of Music, explored the historical relationship between rhetoric and music and re-opened this connection by examining the material and immaterial properties of digital music and its networks of distribution.
His research has been published in Rupkatha Journal on Interdisciplinary Studies in Humanities, Harlot: A Revealing Look at the Arts of Persuasion, and Digital Ethos and Online Credibility: Evaluating Computer-Mediated Communication.
In the fall of 2014 he moved to Portland, OR and began working with Sunbleached Visuals, assisting with music video productions. He is now Marketing & Communications Manager of Melvin Mark Companies where he lends his experience in digital media and analytics to develop marketing collateral and strategies for the firm and its brokerage team.
Performing often along the coast, he plays the guitar in a traditional Irish festival band and mandolin in an alternative-country/mosey group, and appears in and around the city as singer-songwriters Dan Loredo, The Man from Echo Flat, and Lonely Mountain Dog.
His next album, Fallow Lands, is being produced by Christopher Hoganson (Fur Coats, Wampire) and is planned to be released by Portland-based Golden Ghost Records and its affiliate, Famined Records (Winter Park, FL), in 2016, who will fund a modest national tour.
Future research plans include the completion of his monograph, The Citizen Musician: Rhetoric and the Politics of Digital Music, and a glowersome collection of critical essays on digital literacy and urban housing with new data from his CoStar Group research, The Technological Class.
He lives with a coterie of good friends, musicians, and artists in a crumbling mansion in the north of the city and spends much of his time in the woods and mountains.