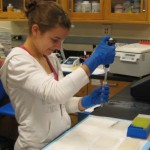 Contact: Jeff Lewin, (906) 487-3435
The twenty-third annual Department of Biological Sciences Bioathlon for high school biology students was held on Wednesday, May 2, at Michigan Technological University. Simultaneously, a workshop was held for the accompanying biology teachers.
The Bioathlon serves as a means to stimulate interest and problem-solving in biology among our area youth. Teams from 16 Upper Peninsula Michigan high schools participated. The three top scores go to these schools.
---